Some of you may plan to visit Tokyo Disneyland while you stay in Tokyo. Even the American theme park exists in your country, it will be interesting to visit the one in Tokyo and to see how they are different across countries. 
This will be one of the differences of Tokyo Disneyland from other Disney parks in the world.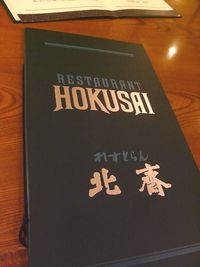 A Japanese restaurant is available in Tokyo Disneyland which will be celebrated for 30th anniversary from 15 April 2013. The restaurant is called "Hokusai" (北斎). Obviously it is named after the most famous block print artist in Edo period, Katsushika Hokusai. The Japanese restaurant has been operated since the park opening. Originally Restaurant Hokusai was designed for Japanese senior generation which were not familiar with Western style food like hamburger in early 1980's. Nowadays Japanese elderly people are also happy to enjoy any kind of Western food with their grandchildren. So the role of the Japanese restaurant has been changed for adding more dining choices in the most popular theme-park in Japan.
Restaurant Hokusai is located in World Bazaar which is the theme park's largest shopping zone close to the entrance gate.
Don't miss the sign board and entrance door on the ground floor.
The restaurant itself is on the upper floor.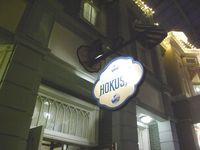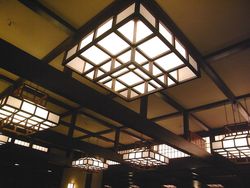 On the upper floor, it is decorated in traditional Japanese style with some Japanese arts. The space is quite far from the world of Disney films. We cannot believe that it is in Disneyland!!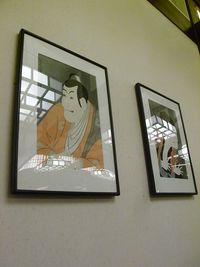 The Japanese restaurant offers several different meal sets with each typical Japanese main dishe such as tempura, udon noodle and pork shabushabu (fondue).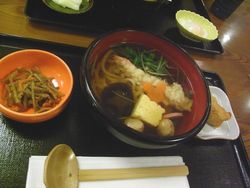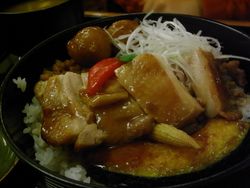 Udon noodle (left) and Chicken teriyaki with rice (right)

Sometime we can find a clue of Disneyland like this.
A piece of carrot in shape od Mickey face in udon noodle!!
Japanese traditional dessert is also available.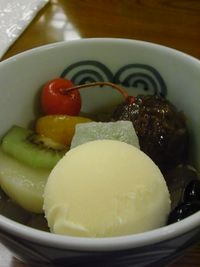 Enjoy Japanese traditional meal even in the Magic Kingdom! 
We will also report food for souvenir of Tokyo Disneyland soon.
Restaurant name: Restaurant Hokusai (北斎)
Location: World Bazaar, Tokyo Disneyland
Tokyo Disneyland official site: http://www.tokyodisneyresort.co.jp/en/index.html