JR Shinagawa station has one of the largest and the first full-fledged "eki-naka" (inside-station) commercial zone in Tokyo. The group of commercial facilities called "ecute Shinagawa" by JR East opened in 2005 and even after that it has been developped as expantion in 2011 and renovated the older area in late 2012.
Bar Marche Kodama is one of the newest units opened in a part of ecute Shinagawa in 2012. Kodama is originally a food processing company introducing processed meat products such as sausages, ham and bacon from Europe to Japan. At several locations, the company offers Italian and Spanish restaurants also in order to introduce their processed or imported products with nice wine or beer. Bar Marche Kodama is one of such unit where we can enjoy meat processed food of European style but inside one of the biggest terminal train station, JR Shinagawa, in Tokyo. A glass of wine or beer will be good to make you chill out on the way between your workplace and home, taking a rest and released from packed commute trains for a while during rush hour.
Another fantastic way to visit Bar Marche Kodama is breakfast time. From its opening at 8a.m. to 11a.m. the bar offers breakfast buffet at Yen600. It costs a bit more than breakfast set at fastfood restaurants such as McDonald or coffee shop chains like Starbucks. But the buffet breakfast is still much less expensive compared with the prices for buffet breakfast at many hotels. 
Well, what are provided for the buffet breakfast?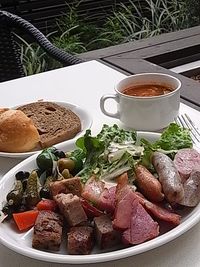 Sausages, meal pate, bacon, all are Kodama's products
olives, pickles, salad, a few diffrent kinds of bread,
minestrone soup with Kodama's bacon
The buffet also includes quiche, coffee and tea of course.  
When the weather is fine, take a table on outside terrace,
if you do not mind being in a smoking allowed zone.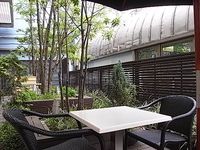 Stay away from hectic real world that can be
looked over the glass window or over the bar counter. 
Further more, Bar Marche Kodama provides alcohol drinks even from the morning hours. Of course it is out of buffet menu though. If your day-time schedule allows you, it will be the best beginning of a day to have the big buffet breakfast with a glass of beer or wine. 
After the fantastic breakfast hours until 11a.m., the station bar still opens until 22h on evening without a break. 
Restaurant name: Bar Marche Kodama
Address: ecute Shinagawa, 3-26-27 Takanawa, Minato-ku, Tokyo
View Larger Map