How many kinds of fish we have in Japan? We can't imagine. Katsuo is one of the most familiar fish species for Japanese but it could not be found so often in other countries. Some people might feel the smell and taste of bonite is a bit strong. Bonite is very perrishable as food and when it is served in a good condition, the fish meat won't have such strong smell.
If you have not had a nice plate of Katsuo(鰹, bonite) yet, we recommend to visit a restaurant "Neboke" (祢保希). The restaurant is specialized in local dishes of Kochi (高知) prefecture in Shikoku region (四国). Bonite is one of the most famous local speciality of the prefecture. Hence the restaurant knows the best way to serve bonite.
Neboke has several units in central Tokyo such as Ginza, Shinjuku or Akasaka. This time we visited the unit in Shibuya for lunch time. Neboke Shibuya brunch is just behind Hikarie (ヒカリエ), one of the most popular shopping complex newly opened in 2012.
Climbing up to the upper floor, it was not imaginable!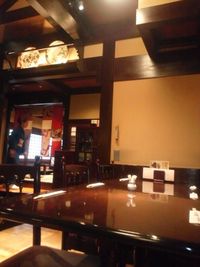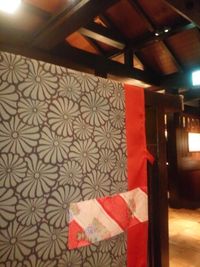 Japanese traditional flavour of decoration
with dark colored wooden beams and folk objects including cloth.
Lunch time is a chance to try bonite dish at reasonable cost from Yen 1200.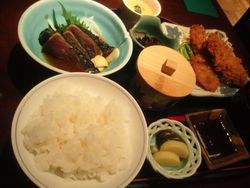 Lunch set includes bonite and one more dish like fried fish.
The most popular way to taste bonite is called "tataki".
After the fish surface is char grilled, it is dipped in special sauce.
It is important to select good quality of Katsuo and
to roast it carefully so only the skin is burned.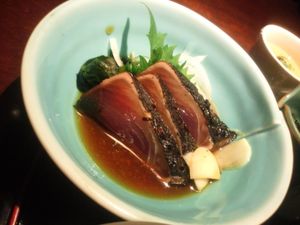 It is a kind of Sashimi to be taken in a bit different way.
Neboke serves other local specialities of Kochi prefecture, which are mainly seafood due to the prefecture's geographic location largely facing to Pacific Ocean. 
For example, Sakato (酒盗, salted fish guts of Bonite) well-matched with sake, sashimi, grilled fish etc.
Restaurant name: Neboke Shibuya
Address: Shionogi Building, 2-17-5 Shibuya, Shibuya-ku, Tokyo
Other major units:
Neboke Ginza
Address: Nishi-Gobangai 7-6-8 Ginza, Chuo-ku, Tokyo
View Larger Map
Neboke Akasaka
Address: 3-11-17 Akasaka, Minato-ku, Tokyo
View Larger Map
Neboke Shinjuku
Address: 49th floor Shinjuku Nomura Building, 1-26-2 Nishi-Shinjuku, Shinjuku-ku
View Larger Map