Japanese traditional type of alcohol, SAKE, must be an item that many of international travelers wish to try in Japan. Sake is made from rice and the flavour can be more or less similar to white wine made from grapes. 
In Japanese, the Japanese traditional rice wine is called "Nihonshu"(日本酒, Japanese sake), while the word "sake" represents all sorts of alcohol drink regardless of the origin, Japanese or other countries.
Some of you may have had "Shochu" (焼酎) already. Shochu is also a traditional Japanese alcohol drink mainly produced in Kyushu region. It is distilled alcohol drink made from either of sweet potato, wheat or rice, having higher percentage of alcohol compared with Sake or Nihonshu.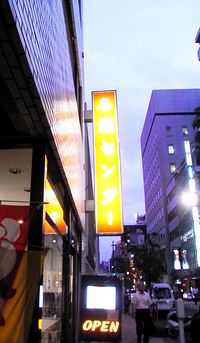 Where we recommend to go to taste several types of Sake easily and surprisingly at very reasonable cost is Meishu Center (名酒センター) in Hamamatsucho (浜松町). It will be a good idea to drop by the center after visiting two major tourist spots in the area, Tokyo Tower and Zojoji-temple which are 10-15 minutes walk from the station.
Meishu Center offers over 100 brands of Sake across Japan, proposing an opportunity to enjoy Sake easily. At the small bar style boutique, we can taste each of these brands at minimum Yen200 per tasting glass and some of brands are also available by bottle for purchase. 
Here the system of Meishu Center as following.
First, after entering the bourituque, find your place with 3 clear tasting glass on a standing counter or high table. It might be crowded between 19h00 - 20h00 on weekday. 
Then from two refrigeated cases in the shop, select bottles you would like to try and BRING them to your place by own. 
Ask a staff walking around the room. He or she will pour the sake into glass for you and will tell you a price for settelement.
When 3 kinds of SAKE are ordered at a time, your charge amount will be reducted by Yen 100.
If you have no idea which brand to choose, to be very kind, Nihonshu Center puts a tag not only in Japanese but also in English. Even if we do not know well these brand names, some information on a tag, such as origin prefecture (where you visited for example), types of sake, alcohol % or acidity will be helpful to find your favourite one. 
Ttypes of Sake is categorized by whether alcohol is artificially added or not and the level of rice polishing. To know more detail about Sake, it will be better to check an amazing website by an English-native Sake specialist, John. He well gather contents in the field on his website. Click here.
Some kinds of snack selected to enjoy with sake are also provided at very reasonable cost from Yen50 (not Yen500!) for a small pack of rice cracker. Take one or two plates as you like and ask a staff for payment.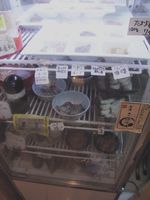 We chose a plate of sashimi konjac (fresh konjac potato, like cool jelly).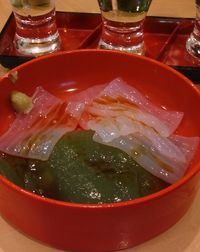 What we have to keep in mind to visit Meishu Center is...
as Sake has so good flavour and prices are very reasonable, 
Be careful not to drink too much!!
Shop name: Meishu Center (名酒センター)
Address: 2-3-29 Hamamatsucho, Mitato-ku, Tokyo
Official Homepage: http://nihonshu.com/
大きな地図で見る