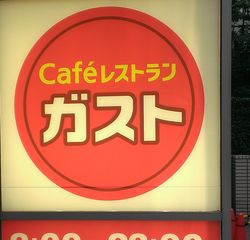 Family restaurant is one of the most popular food service category in Japan, as same with some other parts of the world. There are some chains in the category where any kinds of diners are welcomed, from very young children, students, business people to elders.
Among them, as one of our series posts of "affordable dining choice", we recommend "Gusto."
Gusto is more casual and inexpensive version of a major family restaurant chain "Skylark." The chain may provide less numbers of meal choices and lower standard of services, while offering at lower prices.
For example, the casual family restaurant chain offers one of the most popular typical menus for family restaurant, Hamburg steak from Yen418 and Spaghetti with shrimps and tomato sauce at Yen 523. Those prices must be almost a half of prices at ordinary family restaurants.
Especially for lunch time, two types of lunch set are offered at very reasonable price. Hamburg lunch set costs at Yen 499 and includes with two kinds of side dish changing on daily base as well as today's soup. Japanese lunch set does at Yen 599 and different main dish such as grilld fish, fried chicken etc is offered day by day.
Let's see what we had as the lunch set at Yen 499.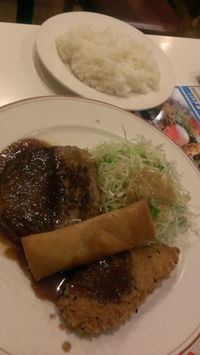 Today's Hamburg lunch set includes
vegetable spring roll and chicken cutlet
served with rice and soup.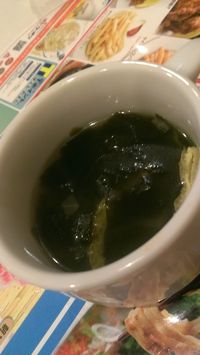 Today's soup, wakame (seaweed) soup is
almost filled with wakame, healthy food.
Good news for big eaters,
Large size can be ordered for rice plate at free of charge
and soup is offered as self-service style and can take as much as you want.
As same with some other restaurant chains like Saizeriya which we introduced in this series of posts, "Affordable dining choice, " Gusto offers a kind of "Drink bar" which it calls "Premium Cafe. " At Yen 339, you can take several different kinds of soft drinks whether it is hot or cold from cafe au lait, darjeeling tea, to coca, ice oolon tea etc etc, as much as you want.
Restaurant name: Gusto (ガスト)
Official website: http://www.skylark.co.jp/gusto/
Shinjuku Kotakibashi-street branch
Address: VARCA Nishi-Shinjuku build. 2nd floor, 7-16-11 Shinjuku, Tokyo
Nihonbashi (near JR Tokyo station)
Address: 1st floor Nihonbashi Plaza Build. 2-3-4 Nihonbashi, Tokyo
Shibuya Udagawa-cho (in front of Tokyu Department store Honten)
Address: 2nd floor Saito build. 34-5 Udagawa-cho, Shibuya-ku, Tokyo
You will find many other Gusto units in major locations.
****************** Find accommodation in Japan ***************
OSAKA / NARA / SAPPORO / TAKAYAMA / TOKYO/YUFUIN
YAKUSHIMA / NOZAWA ONSEN / NISEKO / NIKKO /

HIROSHIMA / MATSUMOTO / KYOTO / KANAZAWA / ISHIGAKI ISLAND /