Following our last post featuring "Momogami", an Izakaya or local cuisine restaurant operated by a local brewing company in Naha, today we will talk about another restaurant recommendable to try local specialties of Okinawa in Kokusai-dori area.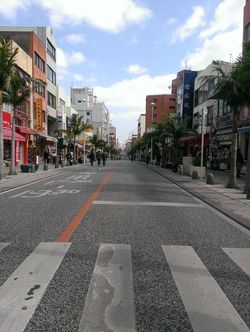 If you visit the capital of Okinawa, Naha-city, you will surely find Kokusai-dori (国際通り) the main street of the town. We can find many types of service from Starbucks, Department store, to Kosetsu-ichiba (local food market) in the area. With the ample choices, it will be a bit hard to choose where to dine.
Beef and pork meat are also Okinawa's local specialty. Beef bred in Ishigaki Island and Okinawa's brand pork Aguu are a few of them. Then we can also easily find several steak restaurants such as 88 or Captain's along the main street. But if you feel better to enjoy Okinawa's meat in local and peaceful air rather than lively touristic atmosphere, we recommend today's feature, Gyuya(牛屋).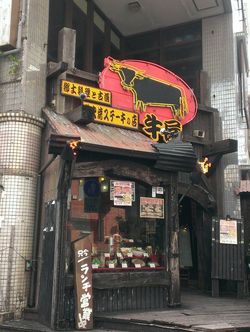 Gyuya is also situated on Kokusai dori, relatively West side. If we see the location on a map, it is almost in-between two monorail stations, Makishi and Kencho-mae.
The restaurant's entrance is on the ground floor and it will be easy to find with this sign. The name Gyuya represents "House of beef". The trademark seems to come from it.
What is good for Gyuya is the decoration inside. It looks like an old house in traditional style and like a storage house of Awamori (distilled sake, exclusively found in Okinawa)!!
On evening, it offers Okinawa's local dishes like an Izakaya, while for lunch time Ishigaki beef steak and other meat main dishes are available as lunch set like a steak house. Considering the quality of food and volume, lunch sets at around Yen 2000 are good value.
My order was Hamburg steak with Ishigaki beef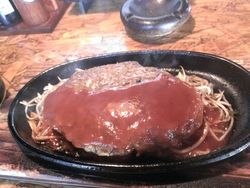 Of course, as we can imagine from the decoration with bottles and pots fully placed around the counter, it is also a good place to enjoy local alcohol, Awamori. The restaurant offers "full" selections of Awamori from all 48 breweries in Okinawa.
However, this is just tap water for lunch time,
although the logo on the glass shows my favorite Awamori brand
from Miyako Island.
Whether it is for lunch or dinner, enjoy Okinawa's local specialty, especially Ishigaki beef and Aguu pork with Awamori there.
Restaurant name : Gyuya (牛屋)
Address: 2-5-12 Matsuo, Naha-city, Okinawa