Finally at the end of Okinawa series blog posts lasting for 2months, like as the last dish of course diner, we will introduce some SWEETS found in Okinawa.
Traditional Sweets
As introduced in our previous post reporting Makishi Kosetsu Ichiba (public food market), Matsubaraya Seika (松原屋製菓) provides traditional sweets of Okinawa.

It is outside of Kosetsu Ichiba on the main street of shopping archade. You will find many mounts of sweets piled at the shop. Most of them are uniquely available in Okinawa but some, for example almond cake, are a bit similar to ones available in Europe.
Traditional sweets by Matsubaraya Seika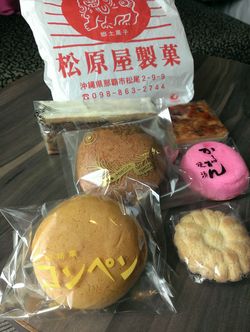 So many different and unfamilar sweets are available there.
It costs around Yen 100-200 per piece.
It's a fun to choose some of them from the wide selection,
even if we do not know well what is inside and what kind of taste it is actually.
Popular local brand x local ingredient
Formost Blue Seal ice cream company was founded in Okinawa in 1948. Originally it came from U.S.A. and served in American base camp. Now the brand name of Blue Seal ice cream has been known even in Tokyo as one of the item to try in Okinawa. 
We had been almost given up to try it on the trip in winter actually, because many others were also on the list to try. But at the end we found the sign of Blue Seal at Naha ariport just before onboarding.
Soft cream purple potato flavor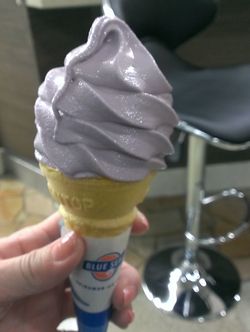 Purple potato (紫イモ) is also one of the local specialty in Okinawa.
The strong purple color has big impact visually and is often used for local sweets for souvenir.
The taste of the potato is not so strong as the color has.
So simply we can enjoy the cool texture.
National brand x local specialty
Last two are the ones we found either at a supermarket or convenience store.
Japanese major sweets comapny provides local products in Okinawa, which are not available in Tokyo, even though we wish to have them.
Chinsuko Ice cream
"Chinsuko" cookies is one of the most popular sweets. 
It is Okinawa version "British Short bread" if we explain it.
Crunched Chinsuko is in vanilla ice cream, as it is for Cookie & Cream.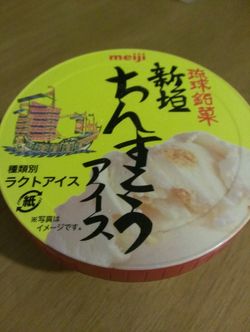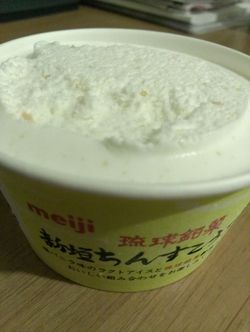 Easily can imagine, it is GOOD!!
Another local version product by Meiji is
Shiikwaasaa (citrus depressa) jelly
It has fresh rich citrus flavor.  
Amazing to be able to get it at very reasonable price
a bit over Yen 100 for 3 packs.
Well, this is really the end of Okinawa series.
We wish you have enjoyed and could get some ideas what we should try on the southern island and how it is different from Tokyo and other mainland cities.
Hopefully we will be able to start next series Hokkaido, the northern land from May 2014.
It must be a good chance to find a big contrast between south and north of Japan!!