Donburiko is a casual restaurant operated by one of the most popular Yakitori restaurants in Tokyo, called Torishige (鳥繁).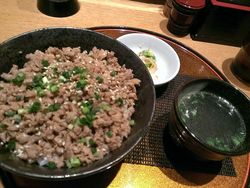 "Donburi" in the name represents a bow of rice with some toppings.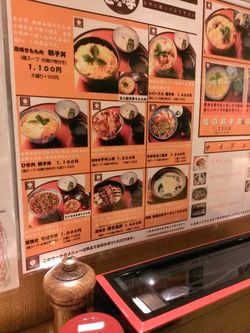 So the menus of Donburiko are mainly donburi style food(with rice in a bowl), such as 
Oyakodon (親子丼), chicken with egg
Teriyaki chicken-don
Soborodon (そぼろ丼), minched chicken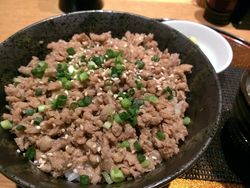 Yes, as the parent company is Torishige, Yakitori restaurant, Donburiko is also specialized in chicken menu.
Actually this soborodon (minched chicken) menu is so popular menu at thier Yakitori restaurant units that we sometimes fail to take it because of sold-out. So we are very happy to find THE Soborodon out of the yakitori restaurants, as we can take it even for lunch not only after yakitori dishes.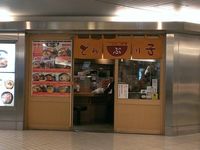 Donburiko is accommodated in a shopping mall, Kitchen Street, which is really stone's throw distance from JR Tokyo station. The casual restaurant has several seats around a counter and serves many busy sole diners.
It is also suitable for quick lunch in the very very heart of Tokyo.
But the taste is too good just for quick lunch! 
Official website (Japanese only): http://www.torishige.com/donburiko/index.html
Address: Tokyo Station 1st floor, Kitchen Street, 1-9-1 Marunouchi, Chiyoda-ku, Tokyo