Today we introduce the best breakfast spot at Haneda International Airport.
The restaurant is called "On the Toast" sounds like breakfast! It is located on the 2nd floor, arrival hall of International Terminal of Haneda Airport.
Even if you arrive at the airport for departure or even for domestic flight, it worth taking time to enjoy breakfast there. Especially if you like ordinary "toast".
On the Toast is operated by Fujiya Hotel chain, whose flagship hotel is in Hakone, one of the most popular hot spring resort among residents in Tokyo. The classic hotel has acquired the greatest reputation for its hospitality welcoming VIP guests, having a good balance between Western and Japanese flavor in the atmosphere.
Because of the highly reputation in hotel operation, we can expect high quality on the breakfast at a unit located in the international airport.
Well, the toast menu must be a good wake-up call for your sleepy mind. Even for the standard breakfast set, we need to tell "my favourite style of toast", thickness, doneness, and with/without crust. You can have something you have at your home, as you do every morning.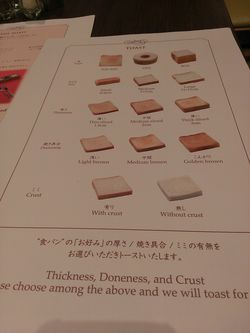 If you have something much more special here, it offers toast with 10 DIFFERENT toppings.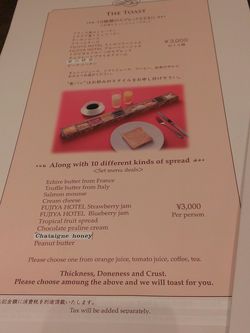 Some of the toppings sound gorgeous. Such as salmon mousse, truffle butter, Fujiya Hotel Blueberry jam etc... This is one of its Grand Menu. So even if you visit the restaurant for lunch, the menu will be available.
One day I want to try it but anyway, today I do not have enough time, so I ordered the traditional Western style breakfast set.
The interior decoration really looks like the dining hall of their flagship unit, Hakone Fujiya Hotel.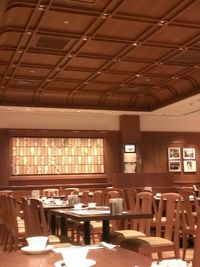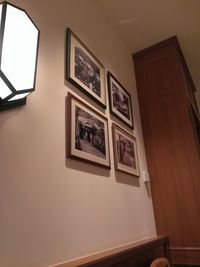 Very comfortable place for breakfast before traveling.
My breakfast started with orange juice and cold soup in summer,
while we were waiting for the toast.
This is the feature of this morning!!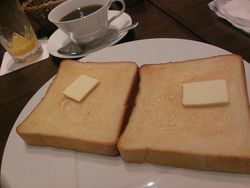 Yes, this is exactly what I ordered.
Not too much done. Just timing.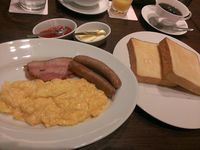 And I have to mention, their bacon is also good as much as the toast is.

It must be good with beer on evening.
Well, let's go back on return way?
Now we have a reason to wake up and to arrive in the airport much earlier for the fantastic breakfast.
Restaurant name: On The Toast
Address: 2nd floor, Arrival Hall, International Terminal, Haneda Airport
2-6-5 Haneda Airport, Ota-ku, Tokyo
Website: http://www.fujiyahotel.co.jp/toast/en/