Some of you may already visited Tanya(てんや), a major tendon & tempura chain restaurant, in Tokyo or some other parts of Japan.
Tenya is a casual chain restaurant but their crispy tempura quality is good as much as what are served at up scale restaurants.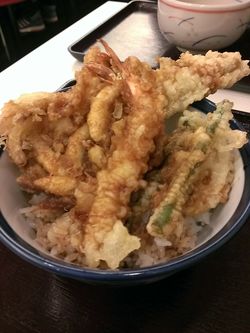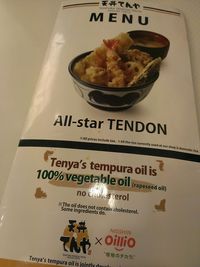 For those who are not familiar with the word "Tendon"(天丼), it means "tempura" + "don"(rice in a big bowl). Tendon is a rice bowl topped with some tempura pieces.
The ingredients of Tendon vary by restaurant and a restaurant might offer a few different tendon such as ebi(prawn) or kakiage (shredded vegetable tempura). 
At Tanya, your check won't be higher than Yen1000 per person in many cases. Each single tendon menu costs much less than Yen 1000.
At some Tenya units in central Tokyo, including one in Harajuku, English menu is available as above.

It will be easier to choose for international travelers from various tendon types and some set menu, for example with noodle.
As it may be a bit difficult to search on information in English, here we put useful information on Tenya's official site.

Menu in English: http://www.tenya.co.jp/english/menu/
They also provide seasonal special and these will be found only at each restaurant with photo images.
Restaurant units in major locations of Tokyo: http://www.tenya.co.jp/english/tokyo-locations/
Among their over 100 units, they will be easily accessible by international tourists.
They also have some international units out of Japan!
Thailand : http://www.tenya.co.jp/shop/oversea/thailand/
Indonesia : http://www.tenya.co.jp/shop/oversea/indonesia/
Find a nice Japanese Tendon in your country! We guess more international units by Tenya will be opened year by year.