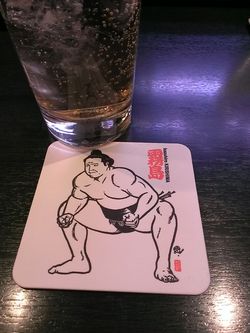 We guess many of you know Sumo (相撲), the Japanese traditional martial sports.
Obviously from their physical attribute, "FOOD" is an essential element for sumo wrestlers.
What they take everyday make their big and strong body.

The last time we wrote about Chako-nabe was, oh!, 7years ago!

Here we spoke what it is, reporting another restaurant for Chanko-nabe.
http://aboutfoodinjapan.weblogs.jp/blog/2008/02/chanko-nabe-sum.html

Today's our recommendable restaurant "Kirishima" is known for its specialty Chanko-nabe, as the restaurant is run by one of Sumo stablemasters, Kirishima(霧島).

But to be honest ... , when we visited the restaurant, actually we did not take Chanko-nabe, as it was too big volume for us, ladies.
So we leave about Chanko-nabe on our last post. Still it is a recommendable menu as long as you have enough space in your stomach.

Well, anyway, we introduce "Kirishima" the restaurant run by a former famous sumo wrestler.
It is located a stone throw distance from JR Ryogoku station as well as "Kokugi-kan"(国技館, Sumo Arena).
Yes! The restaurant is in Ryogoku, the holy place of Sumo.

The restaurant has eight floors from underground to 8th floors with over 300 seats. During the time of national Sumo tournament, on evening the restaurant could be filled with some groups of Sumo fans who are likely to be excited after matches.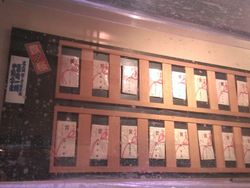 On the walls, we can find many objects showing the glory days of the master Kirishima as one of top wrestlers.

As for the menu, in addition to the specialty Chanko-nabe(Sumo wrestler's hotpot), we can find Japanese dishes like good quality of Izakaya menu from Sashimi (raw fish) to croquette.
 
Some are those loved by Sumo wrestlers (probably) and others are food from the master's hometown, Kyushu region.
Even a few dishes as starter could make your stomach almost full. So be careful, if you want to have also Chanko-nabe.

Here are some examples of side dishes.


Satsuma-age (fried fish cakes, local specialty from Kagoshima, Kyushu)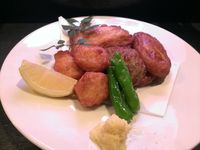 Fried chicken also from Kyushu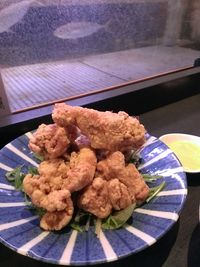 and  a fish tank behind...
Sumo wrestlers are likely to love oily fried meat dishes...
That's we can find here mainly. It's good some times.

"Sumo"croquette - what we can find only at this restaurant!
The look is from Sumo ground. Very large size as a croquette.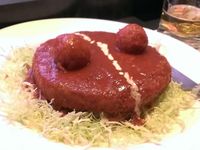 To be good for French speakers, the restaurant has official website in French, while English version is on construction.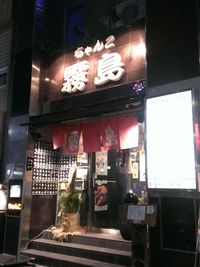 Restaurant name: Chanko Kirishima
Address: 2-13-7 Ryogoku, Sumida-ku, Tokyo
Official homepage(in Japanese): http://l-fujimori.perso.sfr.fr/Chanko-Ryogoku-jp.html
(in French!!) http://l-fujimori.perso.sfr.fr/Chanko-Ryogoku-fr.html
Information in English on Gurunavi: https://gurunavi.com/en/e625300/ph/all/rst/