No. 2: Osaka, holding Hanazono Rugby Stadium in the east side of the prefecture.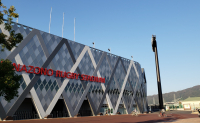 Sekai Hotel Fuse and its surrounding local shopping street - is not far from the rugby match venue, a few stops by local train, in Higashi-Osaka city(East Osaka). Unlike the very central part of Osaka, Higashi-Osaka area has more laid-back atmosphere.
Sekai Hotel Fuse is a hostel made in a local shopping street area. The good-old-day shopping street atmosphere surprised even me, Tokyoite, as we cannot find a similar one in Tokyo any longer. The casual café in the hotel's open-entrance area facing the shopping street will be the best place to enjoy human-watching and the town's atmosphere.

In Higashi-Osaka, we can also enjoy fantastic night illumination from the top floor of City Hall free of charge.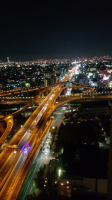 *** This post was reproduced from our official Facebook account post made on 04 January 2019. ***