Osaka Airport Winery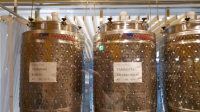 Yes, it is in an airport!!: The number of wineries across Japan is increasing, but we have never imagined a winery IN a major airport! Osaka Airport Winery sources grapes harvested in different parts of Japan. Their fermentation tanks are visible from both the winery's restaurant seats and the airport luggage handling area. Just wonder if vibration caused by aircraft arriving/departing the airport every day makes a difference in the taste? We can seek for the answer at the winery restaurant by tasting a variety of wines from other wineries in Japan as well as in other countries, in addition to their original ones.

The unique winery is situated in Osaka International Airport (known as Itami Airport) that mainly serves for Japan domestic flights. Don't be confused with Kansai International Airport (known as KIX).
Rugby World Cup 2019 official site
Match schedule: https://www.rugbyworldcup.com/match-schedule
Official Ticket purchase guide and tour information : https://www.rugbyworldcup.com/buy-official
*** This post was reproduced from our official Facebook account post made on 08 January 2019. ***