The word, Yoshoku(洋食) originally means "Western-style" dishes. Traditionally we refer dishes introduced by Western countries collectively as Yoshoku.
Now "Yoshoku" is independently a group of dishes whose origins are from Western countries but have been developed in Japan after that. They are not French, Italian nor American any more, even though some of them are still similar. They are different from traditional Japanese menu but could be considered as "Japanese" from the eyes of non-Japanese people.
Kurofune-tei(黒船亭), located just a stone throw from the Ueno Park, provides typical Yoshoku dishes for decades. The speciality is "Hayashi-rice"(ハヤシライス) and the sweet stew made of demiglace sauce is served in a heated earthen pot, after it is cooked for ten days by the restaurant chef who has a half century career in Yoshoku cooking.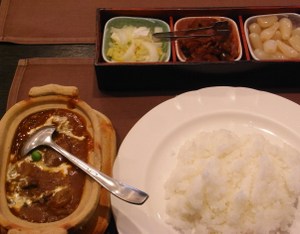 Another dish recommendable is crab croquette. This one is made of real crab...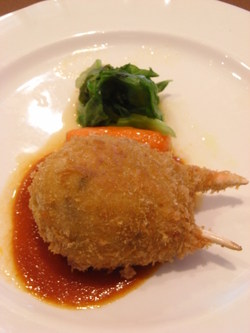 Other dises available at Kurofune-tei are omerice, beef stew, humburg steak, cabbage rolls. All are regarded as Yoshoku.
Related story - Omerice(オムライス)
Kurofune-tei offers a half portion size for some of their menu at a half price.
John Lennon and Yoko Ono are also on its guest book.
Restaurant name: Kurofune-tei (黒船亭)
Address: 2-13-13 Ueno, Taito-ku, Tokyo
Website: http://www.kurofunetei.co.jp