What is this...?
It is in the shape of the first version of "Shinkansen"(Japanese bullet train) which eneded its work on November 2008.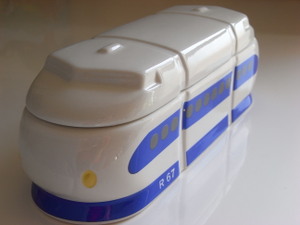 The answer is LUNCH BOX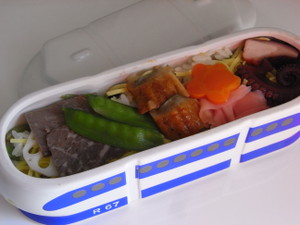 The box is filled with small pieces delicacy, roast beef, conger eel, shitake mushroom, octopus, carrott, sliced egg cakes and vinegared rice beneath of these delicacy.
It is an advantage of bento(lunch box) meal that we can enjoy variety of dainty at a time little by littele. The volume would not be enough for big eaters. Instead, even a young child would eat it up.
Lunch box sold at train stations are called "ekiben(駅弁)". On Shinkansen line, we can find different ekiben at each station, which is made with local speciality of different region.
It is a good idea to try different lunch box at each destination to travel.
The shinkansen lunch box is sold at Shin-Kobe station in Hyogo prefecture, in commemoration of the first version Shinkansen "retirement".
After it is finished and is brought to your home as a souvenir of the Shinkansen journey,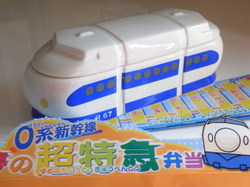 you can display the box like this! by turning the package into a sign board.
Related story: bento
http://aboutfoodinjapan.weblogs.jp/blog/2008/06/bento--launched.html