Okonomiyaki(お好み焼き) is pancake Japanese style.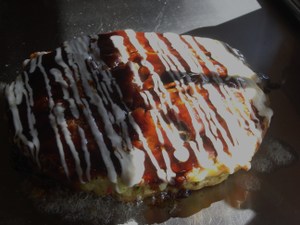 It is main dish or side dish of lunch or dinner rather than sweet or breakfast. The typical one includes pork or seafood, sliced cabbages and other vegetables as well as paste made of flour and water. Special sauce, mayonnaise and laver cut into pieces are on top of the cake.
It is local speciality of Osaka and Hiroshima, both major cities in West of Japan. In each city, it is arranged into its local style. In general, the Hiroshima style includes noodles in the cake. Everywhere each restaurant has its own recipe and offers different versions of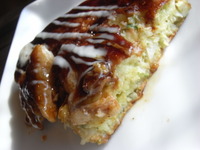 Okonomiyaki, by different ingredients. The name literally means "fried as you like". Some casual Okonomiyaki restaurants provide a bowl of ordered ingredients to dinners and they are required to cook it on a hot plate by themseleves. It is another entertainment of Okonomiyaki eating. Fry and mix vegetables, pork as you like and put sauce, mayonnaise as much as you like... It is surely your original taste and must be delicious even though it looks like anything.
Chibo is an Okonomiyaki restaurant chain originated from Osaka. The unit located on the 38th floor of Ebisu Garden Place provides typical Osaka style Okonomiyaki with a scenic view of Tokyo. Today I found even Mt. Fuji over the window, while I was tasting the delicacy from West.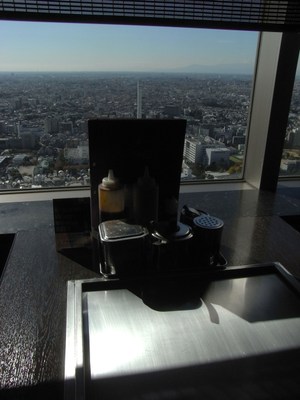 Restaurant name: Chibo Ebisu Garden Place
Address: 38th floor, Ebisu Garden Place Tower, 4-20-3 Ebisu, Shibuya-ku, Tokyo
Website: http://www.chibo.com