It is located on a calm small street just behind busy Yasukuni-dori in central Tokyo.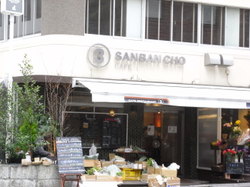 By time, the cafe restaurant offers different type of use.
For business people in the area, breakfast and lunch on weekday are peaceful break time. On the evening, it will be a good place to chill out with pasta, pizza and glass of wine, after a whole day hard work. A few times in a month, live music events are taken place on the evening time.
On Saturday, it is a nice stop for lunch and tea time while people stroll in the area, Chidorigafuchi of Imperial Palace and Yasukuni shrine. Dogs are also allowed to take a break there with their masters. For the second cup of coffee and tea, it offers at a half price, except for lunch time. So enjoy reading a book, chatting with friends as long as you want, but do not worry about your drink run out from your cup!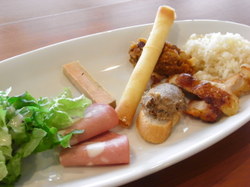 What I had ... a special Saturday lunch plate with a cup of carrot soup. The tasty food is not simply "cafe-food" rather it is professional work. We cannot ignore the point.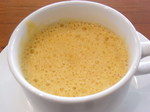 Another thing we cannot miss to check is "Yao Sanbancho", small vegetable market held in front of the cafe. You will be able to find fresh seasonal organic vegerable there.
Smokers seats are also available at the cafe. It is kind to everyone...
Cafe name: Sanbancho cafe
Address: 28-4 Sanbancho Chiyoda-ku, Tokyo
Website: http://sanbanchocafe.jp/