Can you imagine a cafe where we are able to enjoy "Japanese green tea" as we have coffee at Starbucks cafe? That is KOOTS GREEN TEA at Midtown in Roppongi. The small cafe offers various choices of Japanese tea (日本茶), hot or ice, "latte"(with milk), size "small/tall/grande"or smoothy... exactly in the same way with one we often see at coffee shops. 
Here I thought "maccha" looks like Japanese "espresso"!
The size is described as "single" or "double"...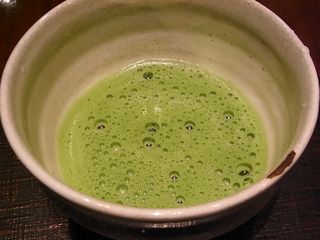 The bitter taste of maccha is alos similar to espresso coffee...

Another menu, hoji-cha (Japanese grilled tea) latte
KOOTS GREEN TEA has two units in central Tokyo and provides selections of Japanese tea and light meal such as rice balls, cakes all of which are good matched with Japanese green tea.
Why do not you enjoy Japanese tea and sweets at KOOTS GREEN TEA ? as if you have a cup of coffee and a muffin at Starbucks or any other coffee shops in your country.
Cafe name: KOOTS GREEN TEA

Website: http://www.koots.jp
Address & Location
<Roppongi> B1 floor Tokyo Midtown, 9-7-2 Akasaka, Minato-ku, Tokyo
<Azabu Juban> 2-1-3 Azabu Juban, Minato-ku, Tokyo