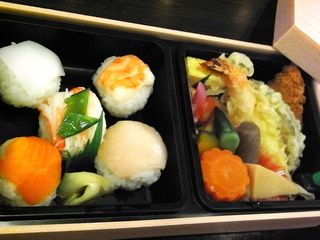 Makunouchi Bento (幕の内弁当) is a cateogry of bento (弁当) produced by professional catering services. It is available at many places, convenience stores, supermarkets, department stores and others during lunch and dinner time. No precise difinition of Makunouchi Bento but roughly the bento box is made from two major parts, rice and side dishes. 
The history dates back to hundreds years ago and no one knows where it comes from actually. One story refers where the name Makunouchi Bento came....
Maku (幕) represents curtain of theatres and Makunouchi (幕の内) implies the word "between acts". Makunouchi bento is boxed meal taken by audiences or actors behind the scene during the interval of acts. 
Here this is the "real" Makunouchi Bento at the National Theatre where Kabuki is often played.
The sushi rice balls are enough small to bite them easily. Side dishes are seasonal, all Japanese typical ones, tempura, boild vegetables, egg cake etc.  
Inside the Kabuki theatare, several kinds of Makunouchi Bento could be available and choosen depending on ones appetite and favourie food. Normally Kabuki plays last for about 3 hours total from mid-day with one or two times break. So before or inbetween the play, Makunouchi Bento or others styles of meal is another joy for Kabuki watching.
Don't forget getting your lunch box there!
Website of National Theater of Japan
http://www.ntj.jac.go.jp/english/index.html