The Japanese chef, Keisuke Matsushima opened his French restaurant in Nice, France in 2002 and the restaurant "Keisuke Matsushima" has been awarded one Michelin star * since 2006.
In 2009, Mr. Matsushima opened his new restaurant in Tokyo. Restaurant I features "local food" of Tokyo and surroundings with its philosophy "local production for local consumption; in-season production for in-season consumptions"(地産地消・旬産旬消). "Local production for local consumption" is not easy at cosmopolitan Tokyo. While we live in Tokyo, we rarely find "local" food of this extremely modernized city. It must be a great work by the prestigious French chef to collect fine quality vegetables and other ingredients and to produce dishes for the upscale French restaurant. And it achieved in gaining a honor of one Michelin star * in 2011!
This month I had a chance to taste some special dishes there. Here are some of them.
Terrine of vegetables and fois gras, sauce of Miso.
The vegetables are from Kanto region, surrounding Tokyo.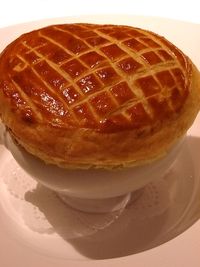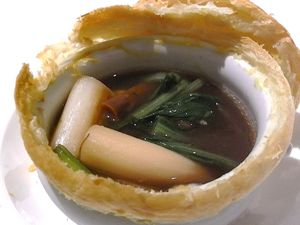 Soup of vegetable in-season from Kanto region with pork "Tokyo X"
The taste of soup is very complex from several kinds of vegetables cooked for long time. It is a French dish but we felt that it is like a Japanese meal because of the ingredients usually used for Japanese cooking. It is a fantastic mixture and work.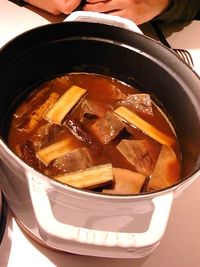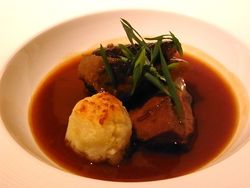 Beef stew "I" style with burdock "Takinogawa"(from Tokyo)
The restaurant also offers "local" alcohol for their local-production dishes. It has wide selections of Japanese wine... I have never seen such a long list of Japanese production...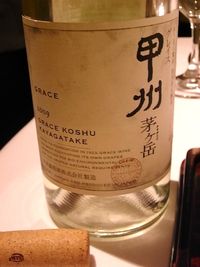 Koshu Grace Kayagatake (茅ヶ岳)
Fruity but dry nice white wine...
After the surprising dishes, herb tea is not an exception. The tea is made from mixed herb from Kanto region!  Great thanks to the harvest...
That is an alternative good choice to enjoy taste of local food in Tokyo. 
Restaurant name: Restaurant I
Address: Park Court Jingumae 1-4-20 Jingumae, Shibuya-ku, Tokyo
Website (with English and French version and online seat reservation via Opentable!)