Takahashi (高はし) is the second restaurant we dined on our Tsukiji Market visit, following Sushi Dai (寿司大) as my previous post. This is also a popular restaurant in Tsukiji Market with guests who do not hesitate to make a queue line for have meal there. It is more a casual dining compared with Sushi Dai and it can be a typical restaurant for the market workers after their hard working from very early morning. As same with the Sushi restaurant, Takahashi also has a counter table to serve around 10 diners at a time. We had been again lucky on the day and were seated as soon as we arrived without waiting.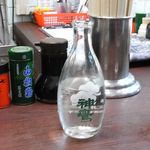 The restaurant's speciality "Super Anago-don" (スーパー穴子丼, superior conger eel rice bowl) is often featured by mass-media. But it is too much for us who already had sushi course in the same morning even though we had one hour walking tour at Tsukiji Market whole-sale area...
We ordered some fish dishes to taste their fresh high quality specialities with Japanese sake.
Seasonal and assortment Sashimi plates selected by chef 
At Takahashi, it is a pitty if someone finishs his/her meal only with sashimi plate.
They also serve very good cooked and grilled fish dishes. 
Well-cooked conger eel is so soft and sweeeeeet.
Today's grilled fish, trout is so big enough to share by 4 people...
Complimentary small starter dish, also well-cooked vegerables,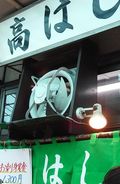 Menu is changed day by day, season by season, depending on what they sourced from the fish market. All available dishes are on the information board at the restaurant, in Japanese language only though. At least what is sure...whatever you order, no dish will disappoint you at Takahashi.
My post related:
Tsukiji Market
RestaurSushi Dai, Tsukiji Market (寿司大 築地市場)
Related links: Tsukiji Market plan in Japanese
*Buildings with light orange colour, where restaurants are mainly located
Restaurant name: Takahashi (高はし)
Address:

the 8th building, Tsukiji Market, 5-2-1 Tsukiji, Chuo-ku, Tokyo, Japan