In addition to visit of Tsukiji Market (築地市場) wholesale area, we got a chance to dine at restaurants in the market site. In Tsukiji Market where the trades is mainly made for wholesale professionals, restaurants on site welcome not only market workers but also general visitors as their dining guests. That is why some restaurants have a long queue lines in front of them.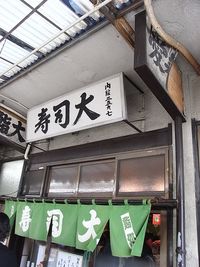 Among restaurants stand in a row and those are located on the ground floor of 10 buildings close to a car parking, a few hundreds meters away from the main gate, we selected Sushi Dai, one of the most popular restaurants in Tsukiji Market. For the restaurant Sushi Dai, it has NOT been rare that diners have to wait for a few hours to get a seat in the 12-seat counter Sushi restaurant. However when we visited the restaurant on a weekday of the last week on April 2011, only 4 people were waiting before us!! Finally we were seated after about 20 minutes waiting. What lucky we are !! In other words, it means, after the big earthquake on March 2011, Tsukiji Market restaurants also got negative impact on their business because of decreased number of both international and domestic tourists. Anyway, at least we got an advantage of the situation and  we were happy financially to contribute to the restaurant's business.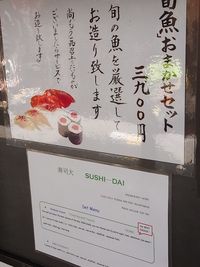 The restaurant offer two sets menu; "Omakase course" (おまかせ, "trust chef" or chef's selections) and Jyou (上, literally meaning "Superior" but the restaurant humbly express in English as "Standard" course) On the entrance door, it hangs an information plate in English as well. 
To embrace the opportunity, of course, we ordered "Omakase couse" which includes 10 pieces of chef's selection "nigiri sushi" (握りずし, hand-shaped sushi with raw fish on top of rice)  plus one piece of sushi as your favourite, as well as, "maki sushi" (巻きずし, rolled sushi), rolled egg, abd miso soup. The chef are enough kind to consult and listen to what you want and you don't or can't eat  then adjust the menu for your request based on Omakase course, before the meal starts. So please feel ease and just look forward to what will have for next an hour at the sushi counter. 
Seating on one of the twelve high chairs at the Sushi restaurant, the scene is exactly for a typical Sushi restaurant; some fresh seafood in a refrigerated case is just in front of us and behind the case, chefs are making Sushi with the hands and serving them to clients with smile as soon as they are made. 
Several examples what we had there as seasonal Omakase course. (Just keep in mind that sushi items are changed by season and by fishery supplying situation.)
Hokkigai (ホッキ貝, surf clam),
it was "alive" when it served in front of me
Maguro (マグロ, tuna) duke (づけ, dipped in soy sauce)
Shiroebi (白海老, white shrimps)
Kohada (コハダ, spotted shad)
I have never seen one twisted like this
Kinmedai (金目鯛, alfonsino)
kobu-jime (昆布締め, fish stored and flavoured with kobu, dried kelp),
ordered as my favorite request
As an additional dish with supplement,
we had grilled Anago (穴子, conger eel),
one piece seasoned with salt and another with soy sauce 
Rolled egg is sweet and soft and
something that cannot be missed
Related links: 
My post related - Tsukiji Market
Tsukiji Market plan in Japanese
*Buildings with light orange colour, where restaurants are mainly located
Restaurant name: Sushi Dai (寿司大)
Address: the 6th building, Tsukiji Market, 5-2-1 Tsukiji, Chuo-ku, Tokyo, Japan