The Chinese restaurant is located less than 10 minutes walk from JR Ebisu (恵比寿) station, Tokyo. In the quiet residential area and on the basement floor, from outside, the presence is so discreet that we missed and passed it over first. 
Unlike the first impression of the modesty presence, inside of the restaurant is sophisticated modern interior with vital open kitchen space in the middle of seats.  From a table close to the kitchen, we saw the chef Masahito Namazue and his staff working and cooking dishes without a break. 
Every food provided there were impressive and as same with the interior design, it is "modern Chinese". All the flavor are surely on the right track of Chinese cuisine but spices and sauce are not too strong as the chef is aming at his dishes having good mariage with wine.
The lunch course Yen 3500 per person is reasonable as a meal at a Michelin star restaurant. It includes several kinds of Chinese delicacies such as dim-sum, noodle, four selected starters and dessert.
Four selected starter plate and spring roll whose salami-filling is unusual and Western style arrangement. 
Juicy dim-sum is "must" item at any kind of Chinese restauran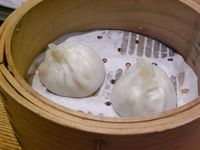 You can select "how to cook" your dandan noodle (坦々麺)
with thick soup as Japanese style or 
no soup as Chinese origin style (as the photo below)
otherwise it could offer another way of cooking by season.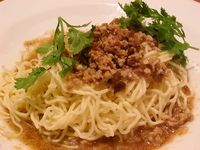 Lastly it is rare to find sorbet on Chinese almond jelly, isn't it?
That is another joy to be enjoyed at the end of the meal.
Restaurant name: Masa's Kitchen 47
Website: http://www.masas-kitchen.com
Address: B1 1-21 Ebisu, Shibuya-ku, Tokyo
Accommodation near to the restaurant: