You may know Okinawa prefecture, the southernmost rich-nature islands region in Japan, for the beautiful beaches, Churaumi aquarium or unique folk culture. Recently our mind was hit by the news that The Ritz Carlton Hotel will open its first resort property in Japan in Okinawa main island next spring. 
For us, Japanese people, Okinawa is one of the most popular destination for summer vacation, which arracts any kind of travellers from family with young kids to romantic honeymooners.
An interesting sweets (or snack?) has been reported to us from Ishigaki Island.
It is called "Shima togarashi cookie" (島とうがらしクッキー, Island-hotpepper cookie).
Hot pepper in cookie?!  Seems to be "Yes" as red pepper picture is depicted on the package box as well as the words "13% included hot pepper made in Okinawa".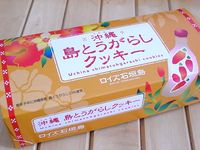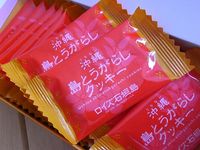 The other thing to be mentioned for the cookie is that it is made by a company called "Royce Ishigaki". It is a subsidiary of the most known chocolate producer in Hokkaido "Royce Confect". Royce founded its subsidiary for cacao tree cultivation on the far south island, at another edge of Japan, four years ago. 
Hot pepper cookie sounds strange, while cookie by Royce brings us high expectation...
As it opens the small pack, it is nothing change from ordinary one.
Let's try it.
Uhhnnnn...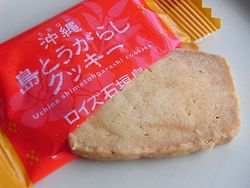 Firstly It is rich in cheese flavor. As per the official site, two kinds of cheese Edam and Camembert are used for it. After the cheese flavor, I felt spicy hot pepper in my mouth. A bit hot and spicy
Surely hot pepper can be interestingly recognized in the cookie. As snack, it must be matched with chilly beer. It is well-arranged, good souvenir for Ishigaki and Okinawa islands. 
Products by Royce Ishigaki, including Hot pepper cookie, are available at major souvenir shops on the Ishigaki Island as well as some stores at Okinawa-Naha Airport, otherwise online store by the company.
Royce Ishigaki home page (Japanese version only) 
 http://shop.royce-ishigakijima.com 
Royce Confect (English) 
http://www.e-royce.com/english/index.html
Hot pepper cookie is available at souvenir shops in these hotels in Ishigaki island. 
On other islands