It's getting cooler day by day in Tokyo though.
 Why not taste Japanese autumn flavor in fresh hand-made ice cream at a small cafe in warm atomosphere in Ebisu (恵比寿).
Japanese Ice cafe OUCA offers several flavors of hand-made ice cream with carefully selected ingredients across Japan. The flavors are changed by season and the cafe gives you a chance to choose 3 to 5 flavos in a cup.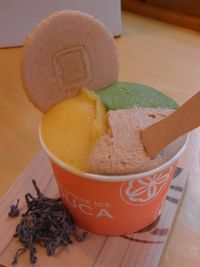 Flavor in photo:
seasonal fruits Kaki (柿, persimmon),
Matcha green tea and
Kinako (soy beans powder) & Kuromitsu (Brown suger syrop) 
Enjoy home-made Japanese seasonal harvests at the small cozy cafe with interior inspired by Japanese traditional motifs. 
Cafe name: Japanese Ice OUCA
Address: 1-6-6 Ebisu, Shibuya-ku, Tokyo
Website: http://www.ice-ouca.com