An American science magazine reported in 2006 that "natural" fish and shellfish are anticipated to disappear from the world by 2048 as per careful research for 4 years by marine biology specialists. The report warns also that fishery resource is decreasing day by day.
Concerning the situation, a Japanese restaurant operator, AP Company, aims to concerve natural fishery resources with their own effort by sourcing seafood directly from fishermen who conduct "sustainable fishing". The restaurant's name, Yonpachi Gyojo (48th fishery), is made after the year 2048 on the science report. The AP company's attempt is also unique from the point that the restaurant chain purchases seafood directly from fishermen without intermediator or wholesaller. 
What does that mean for us, diners? Guess it's a good news. Seafood served at the restaurant must be more fresh and more reasonable cost by cuting down margin through intermediator's distribution. Sounds nice?
On eveing of a weekday when we visited, the restaurant had been in vital atmosphere with local business people mainly. We were welcomed by cute ladies in Kimono.
Here is some of what we had there.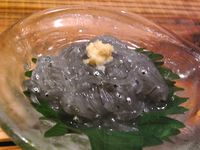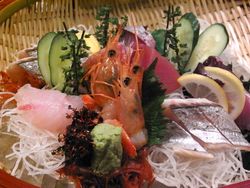 Fresh fresh fresh!!!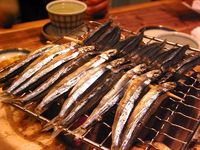 We can also enjoy roasting fish by ourselves on a table.
don't miss a chance to sip one or more kind of Sake from its wide selections.
At the end of nice seafood meal, ice cream in sake flavor.
As mentioned, because of the shorter distribution route, fresh seafood plates are provided at reasonable price. Then total check as well, roughly around Yen 4000 per person we paid.
Restaurant name: Yonpachi Gyojo (四十八漁場)
Company website (Japanese only): http://www.apcompany.jp/
So far Yonpachi Gyojo are located in three central Tokyo locations as below.
Gotanda (五反田)
Address: Atrevie 3rd floor, 1-26-41 Higashi-Gotanda, Shinagawa-ku, Tokyo
It is just above JR Gotanda station.
Website in English (Gourmet Navigator) http://r.gnavi.co.jp/g753350/lang/en/
Ebisu (恵比寿)
Address: 2nd floor Daini Tomoe Build. 1-9-1 Ebisu Nishi, Shibuya-ku, Tokyo
Website in English (Gourmet Navigator) http://r.gnavi.co.jp/g753351/lang/en/
Ikebukuro (池袋)
Address: 1st floor, Fujikyu East Build NO.3,  2-16-8, Minami-Ikebukuro, Toshima-ku, Tokyo
Website in English (Gourmet Navigator) http://r.gnavi.co.jp/g753358/lang/en/