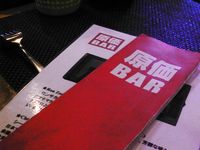 Genka (原価) is a business term and it means "original cost price". 
The bar, called Genka bar (cost price bar), offers an interesting system.
First at the entrance, guest is required to pay Yen 1500 for entrance. After that, all drinks and food menu are served at cost price.
Yes, that is true
 Let's us list up some of their menu with price.
Beer Asahi Super Dry regular pint - Yen 180 
Cocktail Gin Tonic single size - Yen 90
Cocktail Martini single size - Yen 120
Whisky I.W.Harper - Yen 90
Scotch Whisky Lagavulin 16years - Yen 300
Potato chips - Yen 90
Salami and olives - Yen 150
Cheese platter - Yen 300
Sausage platter - Yen 300
Fois gras terrine - Yen 420
Surprising prices
The quality of food plates provided is as good as or even better than ones at other casual bars which charge much more.  As long as you are ready to drink a few glasses, it is a wortwhile option.
Of course the more you take drinks and food, the more you get better total value.
Please be careful not to drink too much
The bar is only one minute walk from JR Gotanda station which is on JR Yamanote line. It is 3 stops from Shibuya and 2 stops from Shinagawa stations.
*************************** UPDATE December 2014 ***********************
Entrance fee
for Genka Bar Gotanda is now Yen 1600,
for the newer unit in Akasaka Mitsuke (Add: B1 floor, 3-21-17 Akasaka, Minato-ku) is Yen1800
We posted new report about the newest, upscale, Genka Bar Ginza. Please click here.
*************************************************************************
Bar name: Genka Bar (原価BAR)
Address: 2-5-8 Nishi-Gotanda, Shinagawa-ku, Tokyo
Website: http://www.genkabar.jp