3 years ago we introduced the first unit of "Genka Bar" in Gotanda.
Charging system of the bar is unique. You can purchase your drink & food at "NET price", ONCE you have paid "entrance fee."
Genka Bar Ginza is located in the middle of Corridor street, popuar dining area among locals. We can find a plenty of nice restaurants and bars along a street between JR Yurakucho and Shimbashi stations on west end of Ginza.
Compared with other Genka Bar units, in Gotanda and Akasaka, the Ginza unit offers upscale service, quality and atmosphere in place of  higher entrance fee Yen 2500 per person.
Food and drink menu are also upscale at Genka Bar Ginza but all are net price as same with other units.
For example, you will find some premium selections of Japanese and Scotch whisky at net prices...
Highland Ardmore Yen 140
Spyeside Glen Fiddich 12years Yen 140
Spyeside Macallan 18years Yen 720
Spyeside Macallan 25years Yen 4100
Japanese Taketsuru 21years Yen 410
Japanese Yoichi 20years Yen 810
Even though you do not have an idea of net prices of those alcohol drinks, if you know the average prices at ordinary bars, you will find the prices at Genka Bar are incredible as long as you forget the amount of entrance fee.
Food is selected depending on the season and to be well matched with the premium alcohol drinks, such as cheese imported from France, skewered vegetable etc. Many of them costs less than Yen500.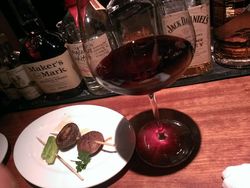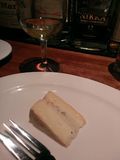 While we enjoy relaxing time at the unique charging system bar, it is nothing change with other peaceful cozy bars. When we find the prices of the menu, we realize that it is an unusual place in term of food and drink prices!! It is very kind to those who love alcohol. Just be careful not to drink TOO MUCH!!
Genka Bar Ginza is located on the 2nd floor of the building.
Please find the red sign of "原価BAR" to find the entrance door.
Bar name: Genka Bar Ginza (原価BAR GINZA)
Address: 2nd floor, 26th Paul Star building 7-2-14 Ginza, Chuo-ku, Tokyo
Official website (Japanese): http://www.genkabar.jp
Menu for the Ginza unit :http://www.genkabar.jp/ginza_menu.html