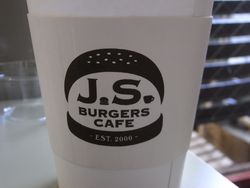 Following our first post this month about gourmet burger in Ningyocho, if you do not have a chance to visit Ningyocho, the small old town..., our second feature of burgers in Tokyo, they are located in places which are more familier for international tourists.
J.S.Burgers cafe is produced by a Japanese casual apparel brand group, Journal Standard. The brand store express the brand's world through the cafe attached to its boutiques in Harajuku, Shinjuku, Shibuya and Ikebukuro, providing high quality American style hamburgers and other snacks.
J.S. Burger cafe's unit in Shinjuku is on the 3rd floor and  
has a terrace facing to Shinjuku station.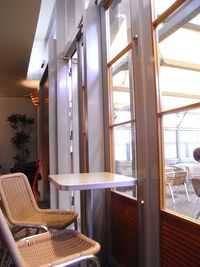 The peaceful sunny floor is a good place to take a rest,
escaping from Shinjuku's jumble and bustling.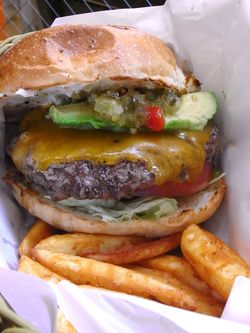 Avocado burger: the handmade style beef pate is
enough big to be called "American style".
Lunch set includes several kinds of salad as much as you like.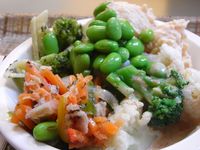 Keep a healthy balance even with hamburger and fried potatos 
Related blog post:
Why not try gourmet burgers in Tokyo? - Brozers', Ningyocho (人形町) 
 http://aboutfoodinjapan.weblogs.jp/blog/2012/08/why-not-try-gourmet-burgers-in-tokyo.html
Restaurant name: J.S. Burgers Cafe
Official site: http://journal-cafe.jp/
<Shinjuku branch>
Address: 3rd floor, 4-1-7 Shinjuku, Shinjuku-ku, Tokyo    
View Larger Map
<Harajuku branch>
Address: 6-2-2 Jingumae, Shibuya-ku, Tokyo
View Larger Map
<Shibuya branch> *Moved and re-opened from 4th September 2012
Address: 1st floor, Parco Part I, 15-1 Udagawa-cho, Shibuya-ku, Shibuya, Tokyo
View Larger Map
<Ikebukuro branch>
Address: Lumine 8th floor, 1-11-1 Nishi-Ikebukuro, Toshima-ku, Tokyo
View Larger Map