Breakfast must be essetial moment for travelers wherever they go. So this month, About Food in Japan would like to introduce you nice breakfast spots in Tokyo.
The first one for today is TORAYA CAFE in Aoyama (青山). 
Aoyama is a posh shopping district with luxury boutiques between Shibuya and Akasaka or Roppongi. Toraya Cafe is adjacent to Aoyama itchome subway station and in Shin-Aoyama building on another side of Akasaka Royal Residence along Aoyama street.
Toraya is originally established Japanese sweets maker born in 16th century. Some of you may know its unit in Paris. Toraya cafe is created by the traditional sweets producer, aimed at introducing innovative products with their specialty "an"(sweet beans paste) in Western style recipe. We featured Toraya cafe in Roppongi Hills previously. Please refer the page for their modern sweets for afternoon tea break. 
Well, today we focus on breakfast at Toraya Cafe Aoyama. The breakfast menu by Toraya cafe is exclusive at Aoyama unit.
This is the most recommendable signature breakfast menu.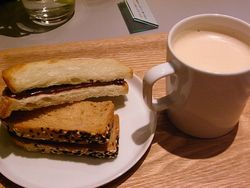 It looks like ordinary sandwich?
Yes at a glance, but it's special and Japanese version...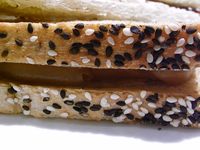 The different exists between two pieces of breads.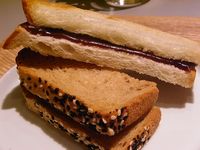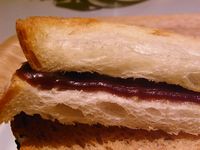 Still look like they are peanuts and chocolate paste?!
Could be ... but they are
"white sesame  and soy bean flour" paste
(the one in breads with sesame)
and 
"an" paste (made from red beans).
All are ingredients that Toraya often uses for its traditional Japanese sweets.
They are light in taste compared with chocolate or peanut paste and, we guess, less oily and more healthy. Still they are well matched with coffee rather than Japanese green tea. It's a great work by the master of handling Japanese traditional sweets.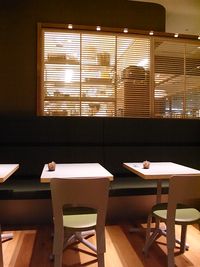 Enjoy the "slightly" Japanese style breakfast at Toraya Cafe Aoyama.
The cafe provides breakfast menu from 8 a.m. for WEEKDAY. It's close on Sunday and Holiday, because of business district location.
Cafe name: Toraya Cafe
Official site: http://www.toraya-cafe.co.jp/
Address: Shin-Aoyama Building,West building B1F 1-1-1 Minami-Aoyama,Minato-ku,Tokyo
View Larger Map