Toraya (虎屋) is an established sweets maker born in Kyoto over five hundreds years ago. The Japanese traditional sweets producer, mostly known for their high quality Yokan (羊羹, red beans cake), offers their modern Western style products in different way from their Yokan.
Toraya Cafe at Roppongi Hills, highend shopping complex in Roppongi, looks ordinary modern cafe from outside along Keyakizaka street. Its dessert menu is not what we can find at ordinary Western style cafe, for example cheese cake, chocolate tarte etc.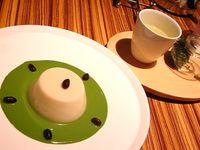 Fresh sweets at Toraya Cafe are created with the knowledge and skills by the established Japanese traditional sweets producer. Japanese ingredients such "an" (餡, sweet red beans paste) and matcha (抹茶, green tea) are mainly used. We can also recognize their new challenges to generate good harmony with non-Japanese ingredients like cacao. They look like Western style dessert but the flavour remains Japanese taste. 
Another point, what can't be missed is, unlike ordinary modern cafe, Toraya Cafe provides Japanese tea on the menu list, which must be also good combination with Toraya sweets.
Try the interesting fusion between East and West and also between tradition and modern.
Cafe name: Toraya Cafe at Roppongi Hills
Address: Roppongi Hills, Roppongi-Keyakizaka street, 6-12-2 Roppongi, MInato-ku, Tokyo
Website: http://www.toraya-cafe.co.jp/