As we mentioned at the interview by Around Tokyo, not only for Japanese meal but also for French, Italian and other international cuisines, what are provided at luxury restaurants in Tokyo may be the second best after each their original countries'. In Tokyo not a few locals always seek something new and tasty experiences and that makes restaurants in Tokyo keep challenging and improving.
The situation results in the fact that Michelin restaurant guide has awarded the most number of stars to the Japan's capital. Now it is regarded as the best gourmet city in the world.
Well we guess that some of you are curious what and where foodies in Tokyo enjoy as their dining experience. This is a good example to introduce one of the answeres. Please let us show you an experience by About food in Japan site owner with her gourmet fellows. 
Italian restaurant Icaro is about 5 minutes walk from Nakameguro station through a good-old-days shopping street running parallel to Tokyu train line. Nakameguro is two stops from Shibuya by the Tokyu Toyoko line , being to be a popular residential town for locals. One reason of the town's popularity may be because tens of nice restaurants exist in the area. Many of such good restaurants in Nakameguro vary from casual Izakaya, like "Nakame no teppen" as our post on this April, to a Michelin star restaurant like Icaro, today's feature. Most of them have relatively small capacity and are operated by individual owner(s) rather than by a major chain. 
Well, about Icaro, the Italian restaurant has a Michein star and features local cuisines of North Italy. The restaurant is run by two brothers one working as the chef and his elder brother serves to diners as the manager. In addition to Michelin red guide, the restaurant is also highly evaluated by users of the Japanese most popular gourmet site "Tabe-log".   
Here, we show you a part of what we enjoyed at Icaro.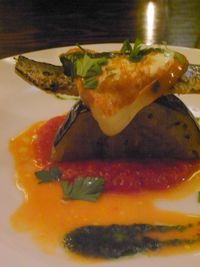 Artistic presentation of
Confit of saury ("samma" さんま),
the "icon" fish of autumn in Japan
with melting Italian cheese is topped on eggplants. 


We shared 2 starters and 3 pasta plates by 3 people.
It was really a hard decision to select these 5 among their attractive seasonal choices on the menu. Actually we dropped main dish meat to have 3 kinds of pasta menu.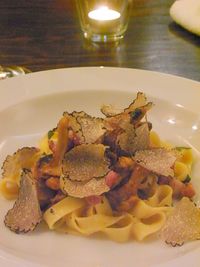 Taliatelle of girolle mushroom, house-made sausage,
thin slices of summer truffle on top

And their specialty pasta is...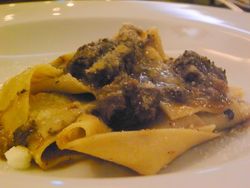 Pappardelle with ragout of Yezo deer meat 
The pasta is finely soft and
the ragout is well salted to be matched with red wine.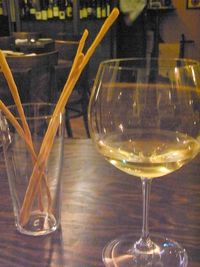 The restaurant's owners have collected wine from Italy and other parts of the world even before the restaurant's opening and they store the wine at their own celler in the restaurant. The collection and reasonable prices considering the quality keeps attracting wine lovers for dining at Icaro.
We agree with a star awarded to Icaro, considering the quality of food and wine. As some local foodies found, actually not so many good Italian restaurants obtained a star from Michelin.
If you would, it is worth trying a good Italian restaurant like Icaro once in Tokyo. 



Restaurant name: ICARO
Address: 4th floor, COMS Nakameguro bld. 2-44-24 Kami-Meguro, Meguro-ku, Tokyo
Official website: http://www.icaro-miyamoto.com
View Larger Map