Following the unusual Ramen restaurant, Ichiran on our last post, today we will introduce a group of Ramen restaurants that could make you feel more comfortable in term of location easily accessible even by international tourists. 
Tokyo Ramen Street (東京ラーメンストリート) is located on one of the largest underground shopping streets in Japan, Yaesu underground path (八重洲地下街) area which is directly connected from JR Tokyo station on the basement floor. Along an underground street, 8 Ramen restaurants gather and compete for authentic ramen, as the street's catch copy "Champion's League of Ramen." 
It is said that the developer of Tokyo Ramen Street tried 100 to 200 ramen restaurants in Tokyo to select the Champions of Ramen. Yes, looking at the names, we can find that they are already very popular for their authentic ramen with the chefs' passion. Some are located in residential areas a bit far away from central. So the location, just next to JR Tokyo station where even Shinkansen stop, is the biggest advantage of Tokyo Ramen Street for tourists. It is easily and comfortably accessible even on a rainy day and allows you to select one (or even two) from several Ramen restaurants with the quality for sure.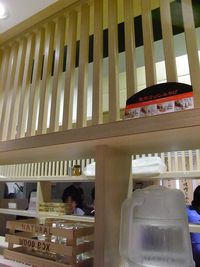 We found an interesting movie on the official website. The video briefly shows you what is authentic ramen, how noodles  and soup are different by restaurants and how it is prepared by chef with skill and passion, even you do not understand Japanese language.
So we share the link here before we introduce restaurants there.
You can search your Ramen dining easily on the site as each ramen restaurant shows the menu with photos in front.
Here we listed up two examples from Tokyo Ramen Street.
Obviously it is the most popular one for which people make a long queue throughout a day. It has a legend that its first and former main unit in residential area had to be closed because the long queue by hundreds of people for the ramen had disturbed neighbor residents. The story tells us how much the ramen attracts locals. 
Rokurihsha's specialty ramen is "dipping" style (tsuke-men, つけ麺). The dipping soup is cooked so long time to make all ingredients melted and transformed into smooth liquid.
An option to avoid a looooong line of Rokurinsha is to arrive in the restaurant at the opening time 7h30a.m. or around in the morning.
For morning time, it also provides special menu with lighter soup suitable as your first meal of the day.
Shichisai(七彩)/Edoama(江戸甘)
The restaurant offers two different types of menu by time lunch or dinner. Until 17h00, it provides ramen with soy sauce flavor, Kitakata Ramen (喜多方ラーメン), local specialty from Fukushima prefecture. For dinner time after 17h00, it does main product with miso flavor. Ramen with soy sauce flavor (醤油ラーメン) has clear soup in most case and it will bring you fresher and lighter taste compared with other types of ramen. Soup of ramen with miso flavor(味噌ラーメン) is normally brown and muddy. Miso flavor soup will wam your body and it is more suitable to be taken in cold weather. Miso ramen can be often found in Hokkaido, the most north region of Japan.
Specialty of dinner time,
"Edoama Tokyo Miso Ramen"(江戸甘 東京味噌ラーメン)
The soup is made with Edoama Miso which is a traditional ingredient in Tokyo and has been loved by locals for centuries since Edo period.      
Toppings for the special miso ramen include not only such traditional one but also Western type of ingredient, grated cheese.
Let's try one of the best ramen at Tokyo Ramen Street on the way of your transportation even after or before excursion outside Tokyo. 
We hope that you won't have to wait for long time at least!
Name of place: Tokyo Ramen Street
Official website (in Japanese) : http://www.tokyoeki-1bangai.co.jp/ramenstreet/
Will be easy to access to the site if you get off from Yaesu Central Underground Exit of JR Tokyo station (八重洲地下中央口). 
Large Map