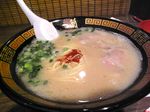 Ichiran (一蘭), providing tonkotsu ramen, is one of the most popular ramen operators originated from Hataka (Fukuoka), Kyushu region which is proud of tonkotsu (pork-flavor) ramen, as its local specialty.
The word of "Tonkotsu"(豚骨) means "pork bone" in Japanese. Soup of tonkotsu ramen is made with stock soup from "pork bone" cooked for long hours. The stock of pork bone is richer than chicken or fish, with collagen. The soup of tonkotsu ramen has white color in most cases and it can be easily recognized by the color from other flavors such as miso and soy sauce in brown color.
Some people do not like the strong flavor. But especially the best ramen restaurants, like Ichiran, have made efforts to remove the strong uncomfortable smell from a bowl served to their clients. Then it becomes the best Tonkotsu ramen.
Well, speak more about Ichiran ramen restaurant, the biggest feature is the table. Ichiran has obtained a patent for the table style, which they call "aji shuchu counter" (味集中カウンター = "Concentrate on the flavor" counter). At Ichiran's counter table, unusually each seat is surrounded by walls in three dimension so that each guest can concentrate on enjoying the flavor of ramen. You won't be seen or disturbed by the restaurant staff, nor by neighbor diners, while you are enjoying your bowl of ramen. The high counter with walls seriously reminds us a "voting station"!!
Yes, Ichiran is not a place to enjoy chatting with your accompanying friend/family or partner, while you have a meal. All guests at Ichiran are expected simply to enjoy the flavor of ramen and the restaurant provides the best environment and system to do so.
Make sense ? as long as you know the rule.
Ichiran is also eager to promote tonkotsu ramen in the world and welcomes non-Japanese guests. It has a unit in New York, U.S.A. (Check the address at the bottom of this page). The official home page has an English version, which is rare as a non-large ramen restaurant chain and it tells you the restaurant's system in detail.
Steps to your Ichiran's experiences...
 http://www.ichiran.co.jp/english/html/oshokuji.html
 Roughly as steps to enjoy ramen at Ichiran,
first buy a ticket for your meal from an automatic machine at the entrance.
Then check the seat availability board and take a vacant seat.
At your "Concentrate on flavor"counter table, fill out a form there for your taste customized, such as taste (mild, strong, soft or rich), volume of seasoning and ingredient (garlic, leek, original hot pepper sauce etc), noddle (how much cooked, hard or soft).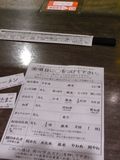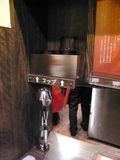 Water tap is equipped at each seat with glasses.
Help yourself for a glass of water!

The wall in front is actually bamboo blind which will be opened by a staff working behind, only when your order is passed and ramen is served.
After your oder is arrived,
just CONCENTRATE ON the flavor
at the BEST environment to do so!!!
 The taste of ramen at Ichiran, authentic tonkotsu ramen, may be needless to say how much it is good. It will be natural that Ichiran attracts many people, considering that the restaurant owner makes huge and unusual effort to provide the best ramen. As per the official homepage, the ramen is made from collaboration works by over 40 cooking professionals dedicated exclusively to Ichiran's products.
If you like the tonkotsu soup and have extra space in stomach, you can order refill of noodle by a bottom on the counter to call a staff. Ichiran's space is quiet as a ramen restaurant, because it is made to communicate through a paper form with their staff, rather than oral communication. That is also for allowing guests to concentrate on the flavor.  
As an optional, Ichiran offers a boild egg. As per their explanation, boild egg can clear flavor remain in your mouth. So it suggests that we have a boild egg for refreshing and being more sensitive to the coming flavor before you have the ramen.
Egg was served with a reflet of explanation, while ramen was cooked.  I added it into the ramen, even though I am not sure if it is recommendable by the restauran or not.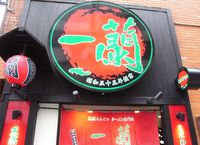 Don't have to think about so much after you knew with what kind of system it works,
just try and enjoy the unusual ramen restaurant!!
Restaurant name: Ichiran (一蘭)
Official website (with perfect information in English): http://www.ichiran.co.jp/english/ 
 < Major units in central Tokyo >
Shinjuku Chuo Higashiguchi
Address: Peace bld. B1 floor, 3-34-11 Shinjuku, Shinjuku-ku, Tokyo
Shibuya
 Address: Iwamoto bld. B1 floor, 1-22-7 Jinnan, Shibuya-ku, Tokyo
Roppongi
Address: Roppongi GM Bld. 2nd floor, 4-11-11 Roppongi, Minato-ku, Tokyo
For more locations including the flagship restaurant (the First One)  and others in Fukuoka, please visit the official site in English.
http://www.ichiran.co.jp/english/html/map.html
Address:1013 Manhattan Avenue,Brooklyn,NY 11222 U.S.A.
Information (Exterior photo and Google map)