Following our previous post introducing TKG (Tamago Kake Gohan, rice with raw egg), this post brings you an option to try the simple Japanese food at a casual restaurant.
Uchino Tamago Chokubai-jo (うちのたまご 直売所, Stand of our eggs from a farmer) is accommodated in Terminal 1 of Haneda International Airport where it is mainly used for domestic filghts operated by Japan Airline group. The casual Japanese restaurant is close to Keikyu train station and monorail gates on the underground (B1) floor.
It opens from 8a.m. to 9p.m. and is available even for breakfast to quick dinner if you would.
As the restaurant's name shown, "a stand of eggs directly from a farmer", food with fresh eggs is its specialty at the casual first-food like stand. Actually the main menu choices are only two, Tamago Kake Gohan (TKG, rice with raw egg) and Oyakodon (chicken and egg rice bowl). All others are side dishes such as miso soup, drink and, cake and pudding made with the high quality fresh eggs. The shop is operated by Akasaka Umaya upper scale Japanese restaurant, introduced on our another blog post, which features selected fine food from Kyushu region. 
If you still...mind raw egg, Oyakogon (chicken and cooked egg on top of rice in bowl) will be the better option. Otherwise, we recommend that you try a few raw eggs came from a certain farm in Fukuoka and kept fresh and at high hygenic standard. 
Two bowls of rice and two eggs, two small condiment dishes are included in the set menu Tamago Kake Gohan at Yen 500. Miso soup with nori (seaweed) is an option at + Yen 100. 
On the counter table, two bottles of soy sauce are offered as seasoning for raw egg. One is especially made for the simple menu, rice with raw egg, and another light taste sauce made from bonite stock.
We also found black pepper mill and Japanese red pepper with 7 spices (shichimi togarashi, 七味唐辛子) provided for seasoning. These spices could be good to adjust to more familiar flavor for you. Some locals also take the option. 
Oyakodon (親子丼 chicken with egg on top of rice)
is also a good alternative
if you are not able to take raw egg TKG.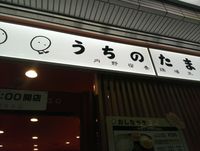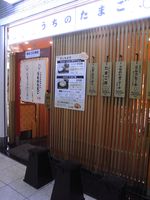 With these condiments, spices and pickles, enjoy two bowls of rice with two raw eggs.
Then you will become the fan of TKG !!
Restaurant name: Uchino Tamago Chokubaijyo
Address: B1F Terminal 1,  Haneda International Airport, 3-3-2 Haneda Airport, Ota-ku, Tokyo