We found our first post of Okinawa series got big attention of many food lovers on our facebook and twitter page. Thank you for those who share and do Like! on it. On this second post of Okinawa series, we introduce the most important spot to find local food of the region.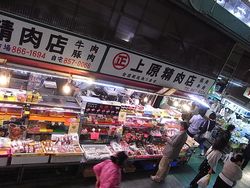 The most popular local food market is officially called "第一牧志公設市場" (the first Makishi public market). Simply it can be referred as "Makishi Kosetsu Ichiba" or "Kosetsu Ichiba". The local food market is just off from the city's main street, Kokusai-dori and is accessible by anyone including tourists. It won't be difficult to find it through a indoor shopping arcade.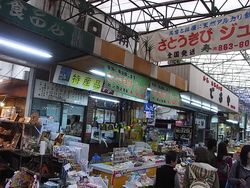 The food market has been loved by local people for over 60 years in central town of Naha, the capital of Okinawa.
With over 400 shops, it provides any kind of local food, from seafood, vegetables, fruits, meat to processed food, seasoning. In other parts of Japan, especially in Tokyo and surrounding area, such vital food market is rarely found nowaday, apart from Tsukiji market, and that sort of commercial facilities have been replaced by supermarkets. Because of the vital atmosphere and variety of local food demonstrated in Makishi Kosetsu Ichiba, it becomes popular among Japanese tourists as well.
On the second floor, large food court is available, where some of restaurants accept to cook food brought from the market shop with fee Yen 500 per piece.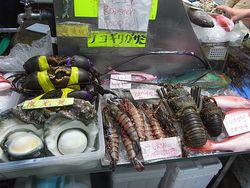 So exciting to be close with such gorgeous seafood...
even though we can't take it to eat.
Fish in the sub-tropical ocean has beatiful colors!!
Rare to find even in Tsukiji market.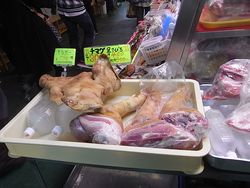 In Okinawa, every part of Pork become food.
This image shows that.
Around the main market hall, we can find some interesting food store.
    For example, Matsubara-ya Seika(松原屋製菓) provides tradtional local sweets.
I found some of them are similar to ones available in Europe or other parts of the world.
Place: Daiichi Makishi Kosetsu Ichiba (Makishi public food market)
Address: 2-10-1 Matsuo, Naha-city, Okinawa
Close: 4th Sunday, new year, Chinese new year etc
Businss hour: 8:00 - 20:00
Official website (in Japanese) : http://kousetsu-ichiba.com/ichibaannai.html