Back to Okinawa series from the last post about "Consumption tax increase" in Japan, today we introduce a local restaurant run by a local brewing company in Naha.
Momogami is situated in the heart of the most popular Kokusai dori in Naha. The name Momogami is not familiar even for Japanese locals but the letter (Kanji) 百甕 a hundred of crock (pot to store sake or any liquid) implies large volume of alcohol.
Accessing from the ground floor of Kokusai street, the local restaurant occupies two floors, the 2nd and 3rd floor of a building. On the upper floor, on evening a few times a day, live local music performance is provided. If you would, ask a table to enjoy the entertainment.
On the second floor, it has several seats beside a counter. The space will be more comfortable for sole diner or a couple. Wherever you are seated, you will find some crocks or bottles as clues of sake along corridor and walls as decoration. You will feel sure that the restaurant is a right place to taste nice local sake.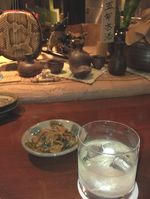 As Okinawa's local alcohol, awamori (泡盛) is widely known distilled alcoholic drink. It is said that its producing technique was introduced from Thailand in 15th century. Then the main ingredient of Awamori is long-grain Thai rice (Indica) not Japanese rice like many other Japanese sake. When Awamori is aged for 3 years or longer, it is called "Kusu" (old alcohol 古酒). The liquid looks like water from the clear color, but one of the main characteristics of Awamori and Kusu is strong alcohol from 20% to over 40%. It is often taken with ice cubes.
Momogami offers several choices for each type of alcohol, Awamori, Kusu, beer and cocktail with Awamori. Especially it provides 3, 5, 8 years old Kusu and tasting set at Yen 1000. Cocktails at Momogami are unique and Okinawa's local products such as Siikwaasaa, guava is used. But please be careful because of Awamori's strong alcohol degree.
For food menu, as we can imagine, Momogami offers all kinds of Okinawa's specialty such as rafte (simmered pork), peanut tofu, mozuku (seawee) etc. (Local food of Okinawa, also check out previous post.)
We chose two typical local dishes especially well match with Awamori Kusu.
Fried Tebichi (pork foot)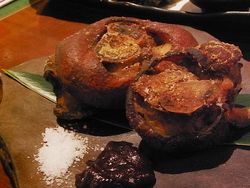 Brown color, well-roasted oil flavor comes from the outer layer and inside it is rich in collagen
Fried Mozuku tempura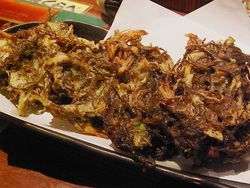 Mozuku (seaweed) is often taken with sour sauce or dashi stock soup rather than heated.
We found Tempura is also very good way of cooking for Mozuku.

On the ground floor, down stair of Momogami, you will find a casual bar called Helios Pub. That is also operated by the same brewing company. If you do not have time to enjoy local alcohol beverage and dishes for longer time at Momogami, you will also be able to taste some Awamori and Kusu at the British style pub.
In further post of Okinawa series, we will also feature Awamori brewery visit to know more about the local bevegrage.
Restaurant name : Momogami (百甕)
Address: 2nd floor 1-2-25 Makishi, Naha-city, Okinawa
Website (gournavi) in English: http://r.gnavi.co.jp/f051601/lang/en/