An Italian restaurant that is very popular "among Italians" is reported to us from one of Tokyoite.
So we visited the Italian restaurant called "Al dente" on one weekday lunch time.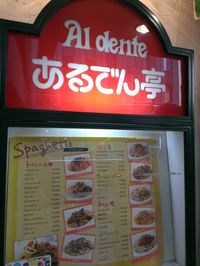 Al dente is situated on the basement 1st floor of one of high-rise buildings, Center Building, in Shinjuku. Actually we passed in front of the Italian restaurant several times to visit other restaurants such as Haiti curry or Indian curry and a cafe on the same floor. To tell the truth, we have never been tempted to go to the Italian restaurant because from the outside it looks like fairly very ordinary pasta restaurant which we can often find everywhere in Japan. We realized that it was wrong and that the Italian restaurant is loved by alot of Italian people including Alitalia airline crews!!
When we arrived one quarter before noon on one weekday, the restaurant was already full and several people were waiting there. That tells us how much the restaurant is popular. At the same time, on the exterior wall, we found tens of photos of smiling Italian guests after their meal at Al dente.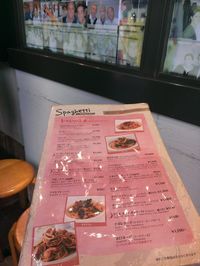 Seems to be truely loved by Italian people, wow!!
Inside the restaurant is not so large and seats around two counters and several tables were all occupied. Most of guests look like business people working in this area.
Al dente offers many kinds of pasta plate from typical tomato or fresh cream sauce to Japanese version with shimeji Japanese mushroom, mentaiko (明太子, hot cod roe) etc. Everything sounds very attractive but we found one very unique and iconic of Al dente.
The spaghetti menu is called "Alitalia" !! because the recipe suggested by Aliatalian airline crews who often stay a hotel in this area. How wonderful menu it is. Spaghetti suggested by some Italians who travel around the world.
Spaghetti Alialia!!
here we have..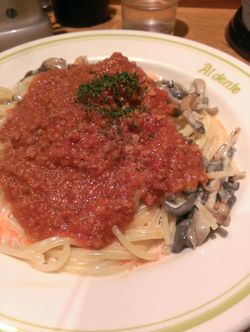 The plate is fresh cream spaghetti with shimeji (one kind of Japanese mushrooms)
AND Bolonese meat sauce on top of the cream sauce pasta.
Both cream sauce and Bolonese at a time...
What a great idea..
Alitala spaghetti is a bit more expensive than other plates but it is worth trying it.
Not only the Bolonese sauce on top of the dish, but also the rich fresh cream sauce made us fully satisfied!!
Looking at the plates ordered by other diners, everything looked yummy.
We want to try carbonara especially next time, if not Alitalia.
Al dente has another unit in Ginza, which offers almost similar menu with the one in Shinjuku.
Try the casual but very nice Italian meal in central Tokyo.
Restaurant name: Al dente
No official homepage
<Shinjuku branch>
Address: MB1 floor Center Building, 1-25-1 Shinjuku, Shinjuku-ku Tokyo 
<Ginza branch>
Address: 6th floor SONY building, 5-3-1 Ginza, Chuo-ku Tokyo