Can we imagine Ramen "in Italian style"?
No… we can't but "Due Italian" has made it!!
The chef has 25-year career as an Italian chef and he bravely developed Italian version ramen. Now Due Italian became the first Ramen restaurant featured on Michelin Guide Tokyo 2015―RESTAURANTS & HOTELS with Bib Gourmand mark.
Let's see what it is like first.
We can find around 5 types of Ramen on the menu.
Apart from basic "Salt" and "Soy sauce" flavor, most of them are what we can rarely find in other restaurants, such as cold tomato, fromage(cheese), milk, lemon?! and fruits vinegar(persimmon) dipping noodle.
All are very interesting but I tried the most popular one "Fromage"(cheese).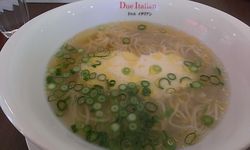 A few chunks of cheese in the soup. Two different types of cheese is used.
Wheat made in Hokkaido is selected for the noodle ingredient, as it seems to be the best match with the melted cheese. The chef made his best effort to make it the best Italian Ramen by considering the best fit ingredient, thickness of noodle and soup(clear chicken stock) for the main actor, cheese topping. Apart from shredded leek, no other topping is on the noodle.
Cheese demonstrates great presence actually.
As the time goes, cheese is melted and well mixed with the soup. It offers us another texture and flavor of cheese soup.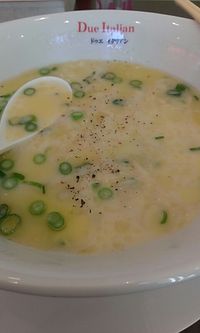 It's a bit different from ordinary ramen but still it is good.
I would like to try other Italian ramen flavor next time!!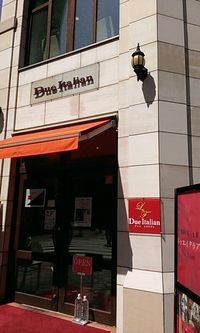 Due Italian has two units in Tokyo as below.
The 2nd unit in Shiodome(Shimbashi), whose exterior looks like the photo, opens only for lunch time.
For both units, it opens as long as the soup stock is available. It will close when the soup is run out. So it must be better to visit it for lunch time but out of peak time(12-13h) when it is likely to have a queue.
Restaurant name: Due Italian
Official website(Japanese only): http://www.dueitalian.jp/
*Ichigaya unit (near Yasukuni Shrine)
Add: 4-5-11 Fuji Bld. Kudan-Minami, Chiyoda-ku, Tokyo
*Shiodome unit(near Shimbashi station)
Add: 2-9-6 SAN bld, Higashi Shimbashi, Minato-ku, Tokyo