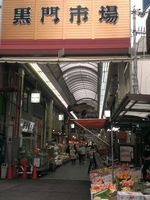 Today's our recommendation for food lovers is from Osaka.
Kuromon Ichiba (黒門市場) is a local food market in Osaka city center. The nearest station for the spot is "Nipponbashi"  on subway lines, which is just one stop from Namba. If you do not mind taking a 10-minute walk or you prefer to take an option to save money for a subway ticket, the market is accessible even by walk from Namba, one of the major central area in Osaka.
From Nipponbashi subway station, take Exit No.10, the market street is less than a minute walk from the station.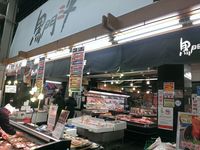 Even though you are not so hungry, just go through the narrow local street, looking at what are sold there. You will find so many many stuff, mainly local food including fresh seafood, along both sides of the street. Small retail stores stand in a row.
At a look, that's a typical local shopping arcade in Japan.What is different for Kuromon Ichiba from other local markets is.... for last several years, the market becomes quite popular among Chinese speaking tourists. Then unlike other local shopping arcades in Japan, many local retailers place products appealing to the non-Japanese customers not only to local ones. That is the reason why, in Spring, we can find a box of luxury strawberry, including ones in white in front of a super market!! They are usually placed on shelf at the end of row, because such  luxury products are not what many customers are looking for.

Also you will find signs and information in English not only in Chinese and Japanese at many shops. The market has more welcoming atmosphere for international tourists and it is easy to go around and to enjoy some food with lower language barrier.
Sometimes tasting is offered.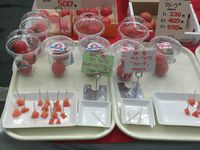 Fugu, pufferfish is one of specialties in Osaka.
Fresh and boiled fugu are also provided.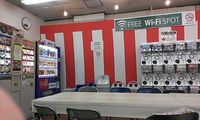 Another point to mention is that the market offers eat-in space in the middle of the shopping street. The space is designed for international tourists who wish to enjoy take-away food from shops in Kuromon Ichiba. It's free to use and provides also restroom and vending machines and even wifi service as well as tables and chairs. Although some local restaurants are also available in the market, this will be a good option for those who visit the market out of lunch/dinner time and who would like to try variety of local food at reasonable cost.

I also got my lunch! at quite reasonable price.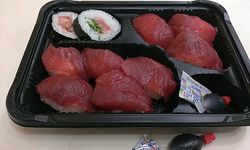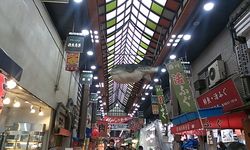 Name of spot: Kuromon Ichiba (黒門市場)
Address: 2-4-1 Nipponbashi, Chuo-ku, Osaka-city
Official website in English: http://www.kuromon.com/en.php
Tripadvisor link: http://www.tripadvisor.com/Attraction_Review-g298566-d1896861-Reviews-Kuromon_Ichiba-Osaka_Osaka_Prefecture_Kinki.html