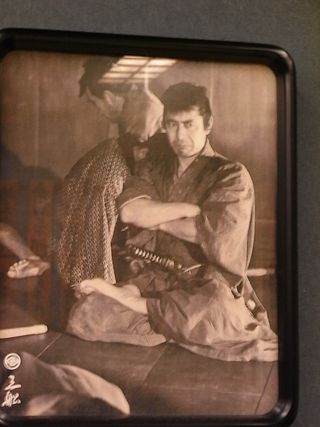 Toshiro Mifune (1920-1997) is a legendary actor who played all (except for one) Kurosawa films. His career had continued for almost a half century from 1947 and workd for tens of films not only of Japanese but  of international, including "Seven Samurai" (1954 七人の侍) and "Rashomon" (1950 羅生門).
The Izakaya just opened this spring in Ningyocho features the theme of "Mifune". Walls in the Izakaya are decorated with the theme; movie shot photos, wooden plaques of names for which he played in films..
Unexpected find is BGM music there, Beatles!! I am not sure why but he could be a big fun of the most famous Bristish band. At least Japanese businessmen 40's to 50's, a target market of the unit must like the music reminding their youth age.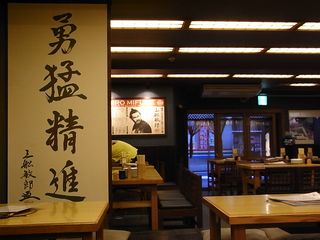 The dishes there are casual traditional Japanese food. The concept of the Izakaya, the world of Mifune or Samurai, reflects in the food; rustic, simple but what every ones like, respect on traditions of Japan and  masculine. If you love Japanese films and Japanese food, it is the best place to experience both at the same time in Tokyo.
Food that we have today are....
Original cocktail "Shichiroji"(七郎次) named after from one of Seven Samurai.
Japanese citrus, shochu and soda.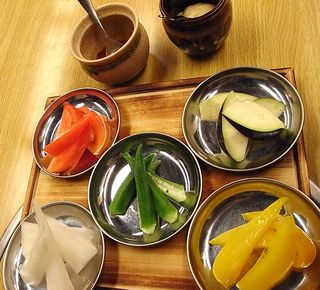 5 kinds of fresh vegetable
with Japanese version "Bagna Cauda"(fish and oil mixed) sauce and Miso-mayonaise sauce.
Chicken meat balls in Houbayaki (朴葉焼き, grill with miso paste on leaf of Hou)
and pork skewered (not typical Izakaya menu Yakitori, chicken skewered)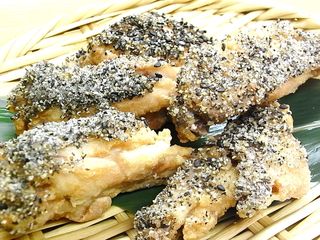 Fried chicken black pepper and sesami.
Very crispy and spicy!!
A big onigiri (rice ball) and tonjiru (とん汁, miso soup with pork and full of vegetable pieces)
It is a typical homey receipi.
The sister units also fearure Mifune world but each altered in a bit different taste. Roppongi, the first branch is upscale, one in Shinjuku for meat grilled infront of dinners and the newest one in Kanda for seafood.
Restaurant name: Gochiso Izakaya Mifune, Ningyocho (ご馳走居酒屋 三船 人形町)
Address: 1-18-2 1F Nihombashi Ningyocho, Chuo-ku, Tokyo
Website: http://www.tokyo-rf.com/restaurants/m02/index.html