I had a short trip to Kyoto in this summer.
In Kyoto, where traditional style buildings are still alive, we can find "machiya"(町屋), traditional town house. Sometimes machiya is used as restaurant, cafe or even spa.
Mukadeya(百足屋, literally meaning centipede house) is one of these restaurants, located in 5minute-walk from Karasuma staion, center of Kyoto. One of the charateristics of machiya is its small entrance (5-10 meters width) and long depth space as twice to four times as the entrance width, had been organized because of the taxation system in a few hundreds years ago.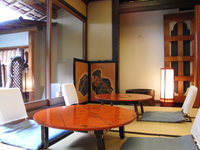 It is known that the house was used by a kimono trader and it has been restored as a restaurant.
After a space with high tabels, and a welcoming room, I had a table in tatami floor room with a view of its small Japanese garden. The next of this room is former "kura" (蔵), old storehouse.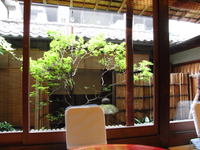 Speciality of Mukadeya is called obanzai(おばんざい), traditional home cooking menu in Kyoto. It is not always true that obanzai menu at restaurants are inexpensive. Dinner courses especially are considered as a kind of Kaiseki. But we can enjoy obanzai lunch at Mukadeya at reasonable cost.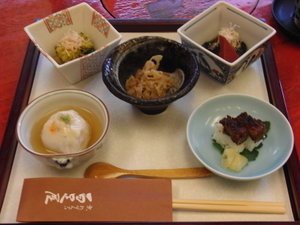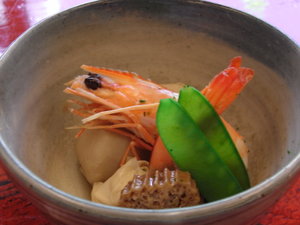 Japanese course meals at upscale restaurants always remind us "the season".
The late summer plates made me feel cool...
The last plate is the restaurant's speciality rice with black means.
It brought with nice smell of Japanese cypress from the wooden box

Defenitely it is recommendable address in Kyoto to taste local specialities of the ancient capital in the traditional town house.
Restaurant name: Mukadeya
Address: 381 Mukadeya-machi, Nishiki-koji Agaru, Shinmachi tori, Nakagyo-ku, Kyoto
Website in Japanese: http://www.kurochiku.co.jp/inshoku/shinmachi/index.htm