Yebisu beer is one of major Japanese beer brands considered as one of the highest quality beer. To be the proof of that, the beer brand is sold at a bit expensive price at super markets. People are likely to purchase the Yebisu beer cans only for special occasions such as birthday party or any kind of celebrating events. If you prepare Yebisu beer when you invite someone to your home, guests would feel special welcome.
Yebisu beer was born 120 years ago, in 1890. Sapporo Breweries LTD. who produces Yebisu beer, opened "Yebisu bar" in Tokyo by celebrating the 120th anniversary of the brand beer.
I visited the first bar unit in Ginza, where five different versions of "draft" Yebisu beer welcome guests.
Yebisu, Yebisu the black, Kohaku Yebisu (琥珀 amber), Yebisu Staut creamy top and Silk Yebisu...
Only by the fantastic beverage choices, beer fan must be excited. All food menu are also selected and created for the best match with Yebisu beer. I found different icons with each food menu. The icons suggest with which kind of Yebisu beer the food plate has the best "mariage". Food menu is mix of Japanese and Western. Some of them are made by original recipe. Others are cooked with Yebisu beer!
For example, what I ordered....
Kyo(Miyako 京) style Fish and Chips: It looks normal? Sea bream (鯛 tai) is used as ingredient of the British menu. Sea bream is known as fish that Yebisu (God in Japanese local belief) holds.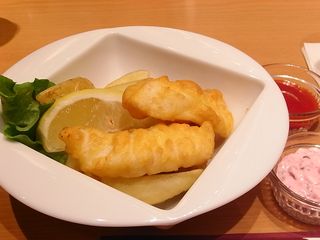 A small bowl of pink color sauce made from Shibazuke (しば漬け, Japanese pickeles) is served with it.
Cream cheese: dipped in tamari (thicker) soya sauce and coated with seaweed powder
It can't look like cheese any more...
The amount of bill is not so expensive as much as the beer brand image.
That must be a good experience to enjoy taste of Japanese fine beer together with unique excellent food.
Restaurant name: Yebisu bar
Address: 1st floor Yamashita build. Corridor-gai, 8-2 Ginza, Chuo-ku, Tokyo
Related Website: http://r.gnavi.co.jp/yebisubar-g/
Sapporo breweries LTD. :  http://www.yebisubar.jp/