It is rate to find a cosy space with nice cups of tea and cakes in Ginza, as many of cafe in central locations are always busy and filled with guests. Ruri (瑠璃), who's name represents "lapise lazuli" in Japanese, was newly opened in 2010 just a few blocks away from Ginza 4-chome crossing. In spite of the central location, the space and surrounding are calm and can be a good oasis while enjoying shopping at luxury boutiques.
What is great of Ruri is not only the modern Japanese taste interior and decorations but also sweets selections offered on the menu, Due to the cafe's owner company, Mon Chou Chou based in Osaka, Ruri cafe provides several selections of Mon Chou Chou sweets including very popular "Dojima Roll" (堂島ロール).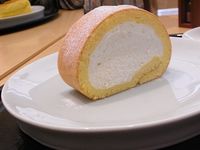 Dojima Roll (堂島ロール) is made with fresh cream from Hokkaido and wrapped with soft sponge cake. The sweet is awarded as Grand Gold Quality by Monde Selection in 2010 and it is greatly appreciated by Japanese clients. People are always making a queue line for Dojima Roll at Mon Chou Chou stand in major department stores in Tokyo. Some cases it is sold out.
Here we do not have to make a long line to get a piece of cake rather we can have it with tea at the comfortable cafe space.
Maccha roll is exclusive to the cafe Ruri. Sponge cake and cream is made with maccha, Japanese green tea. Sweet beans paste is inside of maccha cream. It makes combination of Japanese traditional ingredients and Western-style roll cake.
Casuteran, natural honey is used for and served with fresh cream and sweet beans paste to dip.
Ruri has not only cafe space but also sweets gift shops attached where we can find these fancy cakes and other sweets in gift box for take away.
Cafe name: Ginza Ruri
Address: 1st floor Ginza 4-chome Tower, 4-9-13 Ginza, Tokyo, Japan
Mon Chou Chou official home page: http://mon-chouchou.com
大きな地図で見る