Today it is the day called "Doyo no ushi nohi"(土用の丑の日). We wrote about what it is on our past blog post.
Anyway, on the day of "Doyo no ushi nohi", the largest amount of eel must be taken across Japan. Well, following our past post on the same day in 2008 and 2012, we introduce a traditional restaurant, where it might be one of the best Unagi(eel) restaurants in Japan.
Eel (Unagi, 鰻 in Japanese) is a local specialty of the city at the foot of Mt. Fuji, Mishima-city. We can find many traditional restaurants specialized in the long shaped fish there.
 As per the website introducing the local specialty, eel, by Mishima-city Chamber of Commerce (all only in Japanese though), since hundreds years ago, Unagi has lived in rivers and ponds in the city and eel had been recognized as an emissary of Mishima Taisha (Grand Shrine) by local people long time ago.
Now a day, it is still an icon of Mishima city. It is also said that the water come from Mt. Fuji makes Mishima's eel better taste, when the water is used to wash eel before grilled.
It means Mishima's eel is made with Mt. Fuji!!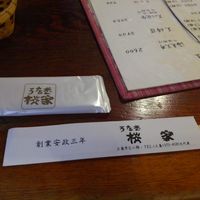 I tried the local specialty at one of the most popular restaurant, Sakura-ya in Mishima.
The building looks authentic Japanese traditional style from both outside and inside. During lunch and dinner time, people are likely to make a long queue in front of the restaurant. But when we visited a bit earlier than the normal dinner time, luckily a table was available for us.
One more thing to be kept in mind is that the closing time depends on their ingredient availability. If it is run out earlier than dinner time, it might be closed before evening.
The restaurant opened in 1850's, Edo period, as written on the chopstick case.
Its main menus are Una-don (Grilled eel with rice in a bowl) or Una-ju (Grilled eel with rice in a square box). Served by a bowl or a box, it's up to you, as you like.

The restaurant also offers 3 price range for the eel menu by the number of pieces from 2 to 4.
The taste is very good even I think that I could travel from Tokyo just for enjoying this eel dish(or a box).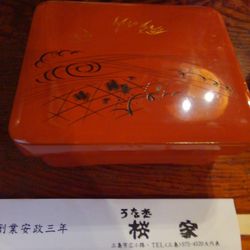 It's exciting moment to open this red box.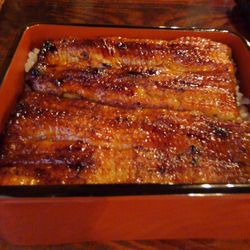 What a good fragrant flavor comes from it!

It's quite simple, just ell on top of rice.
With this great taste, I do not need any other food as a side dish!
Just a cup of soup and some pickles are served with it.
 
If you are interested in trying the local fish, it's worth dropping by the eel's city just for lunch or more. It's accessible by Shinkansen on the way between Tokyo and Kyoto!!
Check out also our old posts related "eel", by clicking each title to open the blog post.

Hitsumabutshi, Wasabiya (櫃まぶし, わさび家) - Shinjuku (新宿)
Restaurant name: Sakura-ya
Address: 13-2 Hirokoji, Mishima-city, Shizuoka prefecture
*From JR Mishima station (on Tokaido Shinkansen), take a taxi or
take Izu-Hakone Tetsudo Line to Shuzenji direction.
Then get off at Mishima Hirokoji station.
Sakura-ya is just a couple of minutes from the train station.
Official HP(Japanese): http://www.sakura-ya.net/