Following our last post about the nice Udon noodle restaurant in Kyoto,
today we bring an interesting exhibition related local "noodle".

It's already on the middle of the exhibition period but it remains a month till the end of the exhibition, 25th October 2015. It must be a good news for food lovers coming to Tokyo soon or next month October 2015.

Surely you know Ramen and may be head about Udon or Soba traditional Japanese noodle. They are commonly available across Japan but at the same time, many local versions of noodle exist across Japan.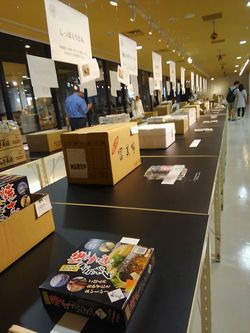 This interesting exhibition has selected each one unique noodle from all 47 prefectures in Japan.

Some of them are known even out of the origin prefecture but others are not well known even among Japanese people. It will be an interesting opportunty to discover unique and various types of noodle meal from different prefectures.


Here is a couple of examples of the 47 products.

Goshiki Somen (5 colors thin wheat noodle) from Ehime prefecture in Shikoku region
Normal somen is in white like the one far-left. Others are colored with some specific ingredients such as matcha green tea powder, plum, egg or black wheat.



Daimon Somen from Toyama prefecture in Hokuriku region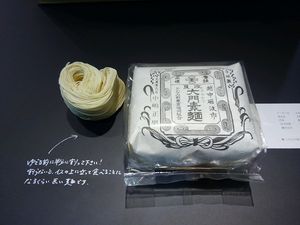 It looks like a normal type?
The uniqueness of the noodle is "length" over 1 meter.
It is instructed that we have to break the dried noodle cluster into two pieces before we put it into boild water. Otherwise we could have a problem to take it as it is too long to eat.
It requires hands of two people to make such long Daimon Somen.
So traditionally the noodle is made by a married couple as their home business in the region.



If you would, these noodles are available for sale but unfortunately not always stocks are available.
Some are produced only for limited numbers and are popular among the exhibition visitors.


Exhibition name: 47 Men(麺、noodle) MARKET
Period: until 25th October 2015
Open hour: 11h00-19h30(last entrance time)
Venue: d47 Museum, 8th floow Hikarie Shibuya
Address: 2-21-1 Shibuya, Shibuya-ku, Tokyo
Enftrance: free
Website (Japanese): http://www.hikarie8.com/d47museum/2015/07/47-market-47-.shtml