The summer in Japan still continues.


It is hard to be outside for long time during day...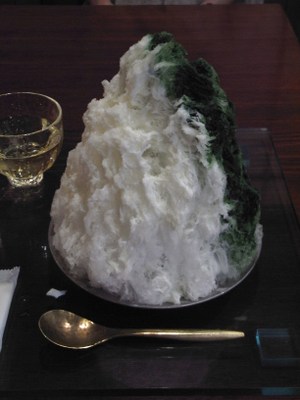 Kakigori(かき氷)cannot be missed as sweets and as one to cool us down during this hot summer.
Kakigori is shredded ice with sweet syrup.
It is available at some cafe especially featuring Japanese sweets or food stall at summer festivals.
For the syrup, strawberry, melon, milk and green tea flavours are typical ones.
Chimoto, a traditional sweets house in Toritsu-Daigaku, a residential area inTokyo provides incredibly big moutain of Kakigori during summer. The volume of heaped ice is double or triple as much as normal Kakigori dish. In the photo, the tea spoon is normal size...
The size makes every guest amazed
Can we finish it? Don't worry, the shredded pieces of ice are very light and quickly melted in the mouth. It is not a difficult task to finishe a bowl, although it is not easy...
Two flavours of syrup are on top; milk and green tea.
The green tea is high quality, real tea but not tea flavoured syrup.
At the bottom of the bowl, we find "shiratama" (白玉、white dumplings) and "an" (餡, Japanese beans paste).
They are the joy at the end of the dish and are unique point of Kakigori at Chimoto.
The tea room is very small and has only 10 seats. You might have to wait for a hour until getting the big mountain Kakigori. It could be worth waiting so long. But please be careful, not to dry up yourself...
Another specialty of Chimoto is Yagumo mochi (八雲もち), rice cakes made of cane sugar and walnuts and wrapped by bamboo skin. This is available throughout a year and do not have to make a que to get some pieces...
Sweets shop name: Chimoto
Address: 1-4-6 Yagumo, Meguro-ku, Tokyo