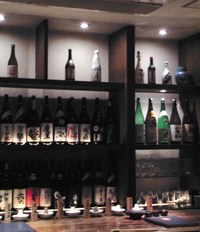 After a half and a year since my last post about Izakaya top 10 by a british journalist, finally I had a chance to visit one of the top 10 Izakaya in Tokyo.
Galali (がらり) Aoyama is located in tranquil residential area behind Aoyama street or chic fashion area Omotesando. The two-floor building, which had been a traditional style local house, is not easy to find without information.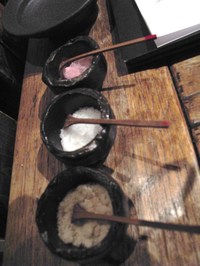 The bottles of sake and shochu are waiting for dinners' order on the shelf. Several different flavour of "salt" are also welcoming guests on the wooden tables and counter. The restaurant suggests enjoying the salt with food provided there. That tells us...the food must be relatively simple (never with thick sauce) but enough high quality.
We ordered some typical Izakaya menu as well as speciality of the restaurant.
Sashimi plate cannot be missed for a gathering at Izakaya.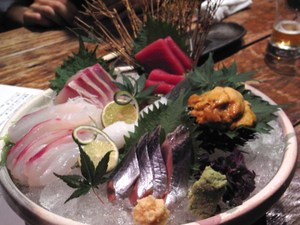 Tsukune (つくね, chicken dumpling) is a specialty of this restaurant.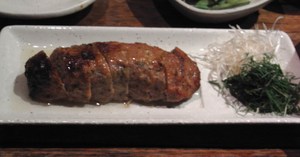 Another chicken plate, grill ... can never do cooking more simple but the juicy taste is even unforgettable. We can recognize the good quality chicken carefully cooked by the chef.
At the end of the fantastic meal, do not forget ordering a rice ball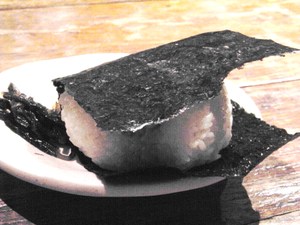 That is the best way to enjoy "the taste of fine salt"
Surely I will come back and this is the right choice as the top 10 Izakaya in Tokyo.
Restaurant name: Galali Aoyama
Address: 3-6-5 Jingumae, Shibuya-ku, Tokyo
Website: http://www.gala-e.com/galali.html
Related story: Izakaya top 10 by British newspaper
http://aboutfoodinjapan.weblogs.jp/blog/2008/03/izakaya-top10-b.html