"Les MIGNARDISES" is French words not Japanese. It is the name of a sweets shop and according to the shop information, "Les MIGNARDISES" means "small sweets".
What I got is surely French traditional sweets, macaron. If it is only that, I have no reason to bring the Les MIGNARDISES specialty here. The size is unusually small, almost 2cm diameter. That is what we can find only at the shop in Daimaru Department store in Tokyo.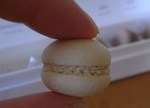 How impressive it is... Nine flavors of small pieces of macarons are lined up in a rectangular white box. The colours of the nine flavors make gradation from white to brown. The flavor names are also enough attractive; White chocolate lavender, Caramel vanilla, Cacao 41%, Chocolate rose, Cacao 80% and so on.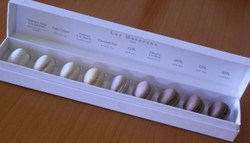 The size is not enough big even for a bite but, when I put a piece into the mouth, the taste is never as small as its physical size. It is rather more complex and sophisticated...in other words, the macaron has a fine world in a small piece.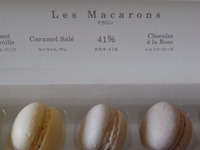 Shop name: Les MIGNARDISES
Address: 1st floor Daimaru Tokyo, 1-9-1 Marunouchi, Chiyoda-ku Tokyo