One of my favourite foods in Osaka, the capital of West Japan, is Butaman (豚まん, pork bun) from 551 Horai (551 蓬莱). Pork bun may be a typical Chinese food but the 551 brands along with its speciality; Butaman is an icon of Osaka. The simple and unpretentious food with packed pork filling inside the large size bun (almost a palm size) could represent mentality of Osaka people…dislike snob and put importance on what they really can get.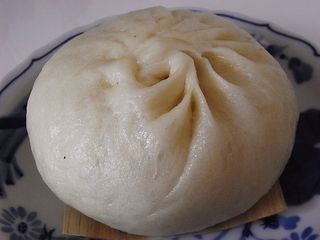 Butaman by 551 Horai costs only Yen160 per piece (sold by 2pieces or more). The hand-made butaman is sold exclusively at Osaka and surrounding area. Apart from some special promotion occasions, it is not available even in Tokyo. So for us based in East Japan, Butaman is an appreciated gift from Osaka.
By the way, we wonder why the brand name is called 551 Horai, as it sounds unique. As per the official home page of 551 Horai, over a half century ago, the founder of Chinese food service company Horai (in Chinese, represents Shangli-la) took the idea from his cigarette brand "555". The brand name with numbers can be easily remembered and recognizable even from foreign people, unlike name in Japanese or Chinese letters. Taken from the last 3 digit of its phone number at that time and from sounds like ko-ko-ichiban (here the number 1, in Japanese), it is named as 551 (go-go-ichi).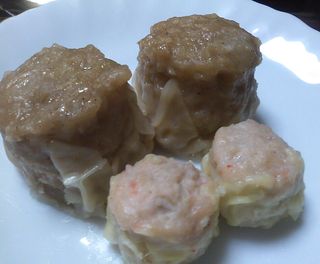 The Chinese food service company sells other Chinese dim-sum foods as well.
Let's find the number 551 in Osaka!
551 Horai official website: http://www.551horai.co.jp
The main store and restaurant
Address: 3-6-3 Namba, Chuo-ku, Osaka  (shopping district of Namba)
******************  Find accommodation in Japan  ***************
OSAKA / NARA / SAPPORO / TAKAYAMA / TOKYO/YUFUIN 
YAKUSHIMA / NOZAWA ONSEN / NISEKO / NIKKO /

HIROSHIMA / MATSUMOTO / KYOTO / KANAZAWA / ISHIGAKI ISLAND /